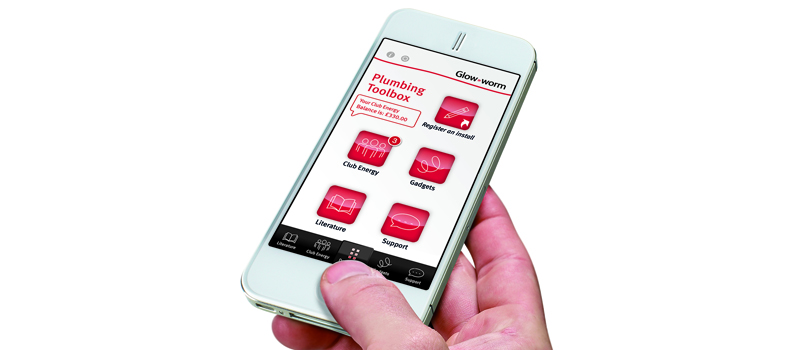 With heating season upon us, the industry is set to be busier than ever. Glow-worm advises on how installers can maximise every minute of the working day by taking advantage of the technology already in their pocket.
Research we conducted earlier this year has shown that this industry is something of a paradox. Out of the installers we interviewed, more than a third (39%) wished they had more installation work whilst 33% longed for some free time to spend with their friends and family.
There are many macro environmental factors at play here: increased regulation, including the newly-implemented ErP Directive; regional variations in economic recovery from the recession; the growing preference for renewables meaning installers need to learn new skills; even a mild winter last year affecting demand for heating services.
As an example, 60% of installers in the West Midlands felt they were busier now than before the recession; compare this to Wales, where 71% believe they still have not managed to recover from it. Evidently there are substantial variations in customer demand, meaning installers across the country face a unique set of challenges.
Nevertheless, we believe that the right technology can help installers to solve many of the common issues they face. The proliferation of smartphones means installers can now access information and support using the technology in their pocket; we have already had over 6,000 downloads of our Plumbing Toolbox app.
Some installers are already using technology to boost their business: 41% of those we asked use a virtual calendar to remind them of servicing. This is why we incorporate servicing reminders in our Plumbing Toolbox app, to make it easy for installers to plan their servicing schedule and proactively approach customers for repeat business.
However, many installers are missing a trick by not making full use of electronic calendars to plan their schedules, as only 24% have a dedicated work calendar to keep track of jobs. It sounds incredibly simple, but just having all jobs and appointments visually laid out is really helpful for planning an efficient day. Calendars can even be used to plan jobs according to location, to minimise costly travel time in between.
Another area which installers identified as time-consuming was all the paperwork involved in an installation. Whilst Gas Safe, ErP and other regulatory frameworks are crucial to ensuring households have safe and efficient heating systems, they do mean extra paperwork. This does not have to equate to hours spent in the evening huddled over a desk, however. There are a number of useful apps available which allow installers to submit these forms on site. We have recently enhanced our Plumbing Toolbox so installers can submit Gas Safe notifications, send Benchmarks and register multiple products to a single address. The certificates automatically get emailed to the customer so this both saves valuable time and keeps customers happy.
Technology is equally useful for those installers who want to boost their business. Social media sites like Twitter are excellent tools for marketing and customer service. In fact, customers are more likely to trust businesses with an active social media profile. Installers can showcase pictures of their best work on their profile, answer customer service queries, and create a brand 'personality' to differentiate themselves from competitors.
We support installers on the @glow_wormclub Twitter channel by re-tweeting their installation pictures so they are seen by more people. We also post tips and tricks for marketing and business development in digestible, bite-size chunks.
There are many other services that installers can subscribe to that will boost their reputation and even generate leads. For example, if your customers rate you highly online it will increase your credibility and appearance in the listings. Nowadays, customers will almost certainly conduct online research before employing a tradesman so it certainly pays to have a strong online presence. In addition, registering with a manufacturer loyalty scheme can bring leads directly to your inbox. We have already supplied our members with thousands of hot leads from homeowners: a figure that is ever-increasing. Being affiliated with a reputable manufacturer also reassures potential customers that the installer is trustworthy.
Our results show that there is strong correlation between a high turnover and the use of technology. Businesses that generated over £200k per annum were much more likely to use technology for businesses purposes: 87% used a work calendar to track jobs compared with just 33% of those in the £0-25k bracket. A larger business will naturally need more sophisticated processes to deal with their customers, but even start-up installers can begin incorporating technology into their working lives to create good habits for the future.
Technology does not have to be cumbersome, complex or challenging to use either. It's just a case of getting savvy and using the tools at hand, which are often supplied free by manufacturers.  In this way, installers can make significant differences to the way they manage their business, their time and interact with their customers.