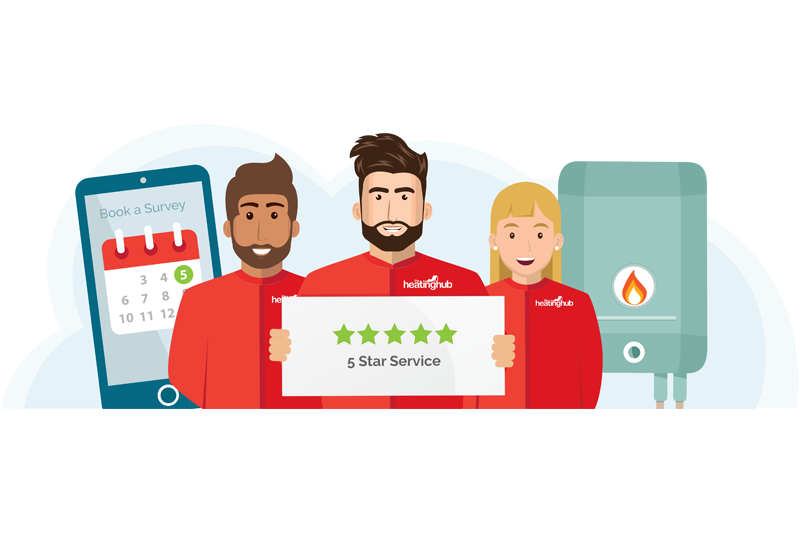 PHPI catches up with Jo Alsop from The Heating Hub, a consumer information platform that aims to unite local heating companies with local customers.
What is The Heating Hub?
www.theheatinghub.co.uk is the first impartial consumer information platform for the heating industry – think Money Saving Expert. The majority of our 300,000 visitors find the website organically via our industry-leading content pages. The site supports a community of local heating businesses who pay for membership in return being just one of three local companies listed in their postcode.
The website model evolved out of the local heating business that I ran for a decade. In an effort to provide more consumer-friendly guidance for our own customers, I started researching and writing blogs on boilers and heating that over time attracted hundreds of thousands of visitors nationally. Recognising a greater potential, we launched theheatinghub.co.uk in 2018.
What are your main aims for the business?
The domestic heating market has gone through a huge evolution in the last 10 years, but the changes have not benefited everyone.
The emergence of lead-gen companies and online quote models has certainly brought benefits for time-poor consumers. For small businesses, however, they are another layer to penetrate in order to access their local market. For consumers in search of a local business, Google is a confusing landscape of seeming local listings; but some have paid to be there and many are not local.
The focus of our model is to unite local heating companies with local customers. We use our quality content to capture customers at the start of their buying journey and take them through to local business listings to book a survey; without going back to Google Adwords.
How can installers get involved, and what are the benefits for them?
Whilst online models are bringing many changes to how boilers are specified and purchased, we believe the mechanisms for delivering great quality boiler installations already exist via our hard-working network of local heating companies. Our platform is here to keep local businesses competing.
From the outset we elected to exclusively support small businesses of around two to 20 qualified engineers who employ most of their workforce and have great reviews. We are committed to bringing value to local communities by championing great local businesses that serve their local area.
When I was in business, I never liked paying for leads. I felt it was a short-term fix that did nothing for raising our brand awareness. Consequently, The Heating Hub model does not sell leads; rather members pay annually for membership to be just one of three companies listed in their area. All leads that come through the site form part of their membership at no additional charge.
Membership also includes access to our closed Facebook group of heating company owners and free training days that bring USPs to small businesses. We stay in very close contact with our members and are continually evolving the model to adapt to market trends. For example, we recently added video survey bookings.
What has been the reaction to your model from installers? Is there a cost involved?
The reaction from small business owners has been incredibly positive and take-up has been excellent. Many business owners have had negative experiences from other online platforms and start off extremely sceptical. Once they know my story, however, they appreciate that the concept comes from an authentic place and from someone that genuinely wants to keep local heating businesses thriving and growing.
Costs are £700+VAT per annum or £70+VAT per month for 12 months. We are at the start of our journey and our primary aim is build a network of great local businesses that are themselves a recognised brand. Some postcodes have now sold out, but we are still seeking high quality, accredited companies across the UK.
How does the boiler quote calculator work? Are the results run in conjunction with installer feedback, and are the prices shown set in stone?
Our calculator uses small business day rates to give an estimate of cost based on property size and boiler location. As such we can deliver customers leads with realistic price expectations. The feedback from our members is that the calculator prices are largely consistent with their own.
The quote calculator shows compatible boilers from the majority of manufacturers without bias. This builds trust with consumers and also allows us to feature companies with different manufacturer accreditations.
We believe that a firm quote can only be provided after a site visit, or at the very least a video survey, and for that reason our calculator only gives an estimate of cost. We notify all customers that their quote may change after a survey and installers are never held to the price we give.
How are you helping to tackle underlying issues within the industry?
My personal drive is to see a reduction in gas consumption through correct system set up, correct boiler sizing and correctly installed modulation controls. Modern boilers rarely operate in condensing mode because the boiler is too big and pipework sizes have not been reduced to suit a 20°C temperature difference. Not only does the water return to the boiler too high for the boiler to condense, the boiler cycles excessively which reduces its life span. I want to use The Heating Hub platform to educate consumers and our members on these principles and assist existing industry advocates to make industry wide changes.