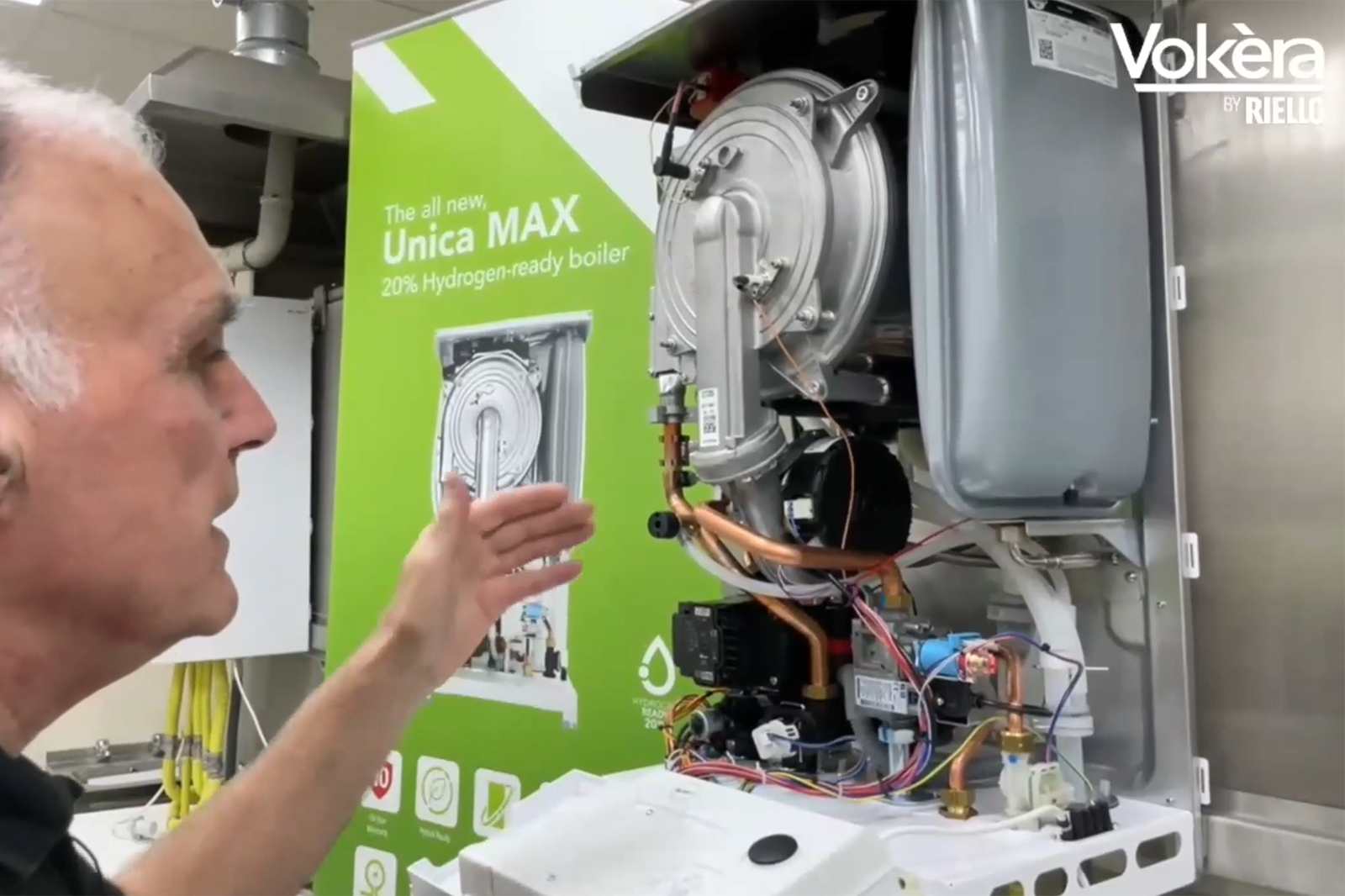 Neil Mattock, Marketing Director and Head of Training at Vokèra by Riello, explains how the company's training programme is constantly evolving to help heating installers thrive and survive in a changing world.
Whether it's coping with the economic pressures caused by COVID-19 or getting to grips with new regulations and technologies, today's installers need high quality training that delivers real value for their business. At Vokèra we have always recognised this and designed our courses to cover everything an engineer needs to improve efficiency and enable a quick and simple installation or repair. Needless to say our training has had to evolve to reflect the changes and challenges of recent times. When lockdowns and travel restrictions limited opportunities for in-person training we decided to create a comprehensive live interactive multi-camera technical training webinars via Zoom, so installers could continue to expand their knowledge and skills safely. The webinar format needs no camera or microphone and installers can type their questions via Q&A breaks throughout.
Apart from adapting to comply with COVID restrictions we have also been developing our training to incorporate new heating technologies, including hydrogen-ready boilers and hybrid solutions that can be combined with renewable energy sources such as solar and heat pump systems. We've also introduced courses to inform installers about changing legislation and recommended practices, including those featured in the 2021 Boiler Plus Policy Review, for example.
Flexible option
Although online training and e-learning tools have been around for many years the pandemic has highlighted the advantages of this technology. Indeed, even as some restrictions have been lifted, allowing more face-to-face training, Vokèra's virtual events have remained very popular. Busy installers seem to appreciate the convenience and flexibility of online training which they can access from their home or office – we've even scheduled sessions to start at 4pm or 7pm to save them having to take time out of their working day.
The popularity of this trend is reflected in the positive feedback we've received from participants who have praised our training team's presentation skills, their ability to explain a subject and the opportunities for real-time interaction, despite not being in a classroom environment. Most of our online events are presented from Vokèra's London Colney training centre, which is fully equipped with a broad range of heating products and teaching aids.
Comprehensive programme
Our current webinar programme covers all the essential topics for heating professionals, from in-depth instruction on boiler servicing and maintenance through to fault finding, flue options, wiring and controls. Furthermore, following the review of Boiler Plus we now offer specific sessions on the energy saving potential of weather compensation, for example, as well as heating optimisation and efficiency, which includes guidance on fan and pump speeds and flow and return temperatures. These informative additions to our schedule are designed to help installers stay ahead of new legislation and enable them to increase heating efficiency for their customers amid soaring energy prices.
New product training is an equally important aspect of our programme as this gives installers an opportunity to become familiar with any new appliances in our range and the advanced features and functions they offer. Most recently we've added a course on Unica MAX, a new hybrid-enabled, 20% hydrogen-ready gas condensing boiler range developed to meet the current and future integration needs of various energy sources.
Our Unica MAX training introduces installers to the concept of a hybrid heating solution that combines the familiarity of a traditional boiler with the renewable energy of an air source heat pump; the system automatically switches between them depending on which will deliver the best energy efficiency at the time.
In the journey to Net Zero, hydrogen-ready boilers are considered key to enabling the conversion of existing gas distribution networks from natural gas to low-carbon hydrogen. In our Unica MAX course we explain how the boiler will adapt to burn 20% hydrogen and methane blend, so installers can be ready and able to adapt to new energy sources as and when the time comes.
Training choice
From large organisations to small family firms, today's heating and plumbing companies can all benefit from learning new ways to work even smarter and more competitively in order to retain their existing customers and win new ones. As well as improving their product knowledge, installers can also use training to keep up to date with regulatory changes and the impact new standards might have on the way they work and how they can ensure compliance.
Although we've seen exponential growth in online training over the past 18 months or so because of the pandemic, we believe face-to-face training still has an important role to play in our industry's education. With this in mind, I'm pleased to say that we have been able to increase the number of in-person courses at our facilities around the UK in accordance with any local COVID measures that may apply.