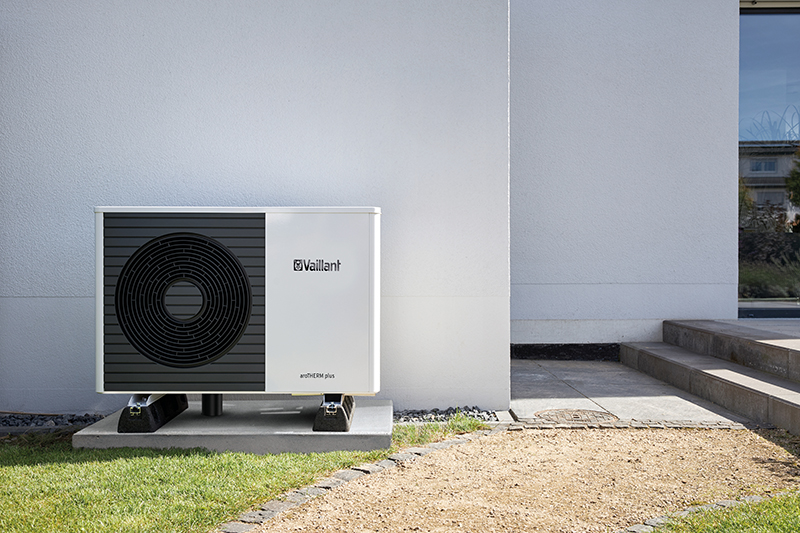 With sales of heat pumps looking to grow considerably, it's clear that low carbon heating is playing a central role in the government's plans to decarbonise the ways we heat our homes. Mark Wilkins, Technologies and Training Director at Vaillant, discusses how installers can successfully transition into the world of heat pumps, and how manufacturers can play an important role too.
January saw the long-awaited response to the UK Government Future Homes Standard consultation, which set out rigorous targets and timeframes to make all new homes use low carbon heating from 2025. We're at a clear turning point for the heat pump market, transforming what was once a niche technology into one which looks set to experience significant growth.
Yet, while the opportunity is clear, the shortage of qualified heating installers on the ground to install this technology could prove to be a stumbling block in reaching these targets. Support and investment in installers and infrastructure will be crucial to ensuring widescale uptake of low carbon technologies. For those installers looking to seize the opportunity and take advantage of these new revenue schemes, the need for further upskilling and diversifying is crucial.
Accredited installers
Latest figures suggest there are approximately 2,000 MCS accredited installers actively installing heat pumps. This is compared to the estimated 130,000 Gas Safe Registered engineers currently fitting natural gas boilers.
Many installers already hold the technical know-how and the experience of working on often complex heating systems, which means the progression into low carbon technologies is a clear next step for those looking to broaden their horizons with additional training and qualifications. Heat loss and sizing remain a key part of specifying a heat pump installation. However, mindset and approach are also important elements to consider. While heat pumps require additional time up front to measure and size the room and calculate pipe runs to work out the best suited system, the actual installation work is fairly similar to that of a conventional boiler.
Training opportunities
For those seriously interested in widening their knowledge base, training is key. Manufacturer support has already proved vital in helping many installers on their heat pump journeys, from giving advice on the capabilities of ground and air source systems, to finding the right training courses. Partnering with a manufacturer also provides the opportunity to find out about products in detail and gain access to expert guidance when required.
Vaillant's online training courses on low carbon heating technologies, including heat pumps, are designed to be easily accessible. Allowing installers to build on their existing product and installation knowledge, the six in-depth modules can be taken in isolation to fill knowledge gaps, but also fit together to cover the journey from beginning to end.
Modular approach
Starting from an introductory course, explaining the workings of a heat pump and the reasons and rationale for decarbonisation, modules then cover specifying and installing a heat pump. There are also a further five modules that expand on this learning to cover more technical topics including natural refrigerants and split systems.
Extensive training on designing and installing our heat-pump systems, and our work with industry bodies such as CIPHE (Chartered Institute of Heating and Plumbing Engineering) and HPA (Heat Pump Association), further ensures that installers can obtain the knowledge and competencies needed to deliver quality installations.
Strong position
Installers able to offer low carbon heating technologies to customers will undoubtedly be in a strong position to maximise every opportunity and revenue stream as the push towards net zero by 2050 continues to gain momentum.
Yet, it is important to remember that when you look at the UK's current infrastructure, alongside the diversity of the communities and existing housing stock, pinning the future on a single type of fuel or technology is overly restrictive. There is no silver bullet here, and a more complex approach is needed. While retrofit and existing gas grid properties could benefit from the move towards boilers powered by hydrogen and other greener gases – and new build and off-grid properties may be better served by maximising the potential efficiency increases heat pumps offer – this division is no longer so clear cut.
Looking at the heating landscape, it's clear there is a lot for installers to take into account, but what we do know is that, for those looking to grow and diversify, heat pumps are well worth considering and Vaillant is here to support installers with the move.
www.vaillant.co.uk/for-installers/training/training/online-training/
Vaillant expands UK manufacturing facility to produce aroTHERM plus heat pumps
Having seen record demand for heat pumps as a result of its multi-technology strategy, Vaillant has announced it is to extend its UK manufacturing facility. Based in Belper, Derbyshire, Vaillant Industrial UK will begin manufacturing heat pumps alongside its UK range of high efficiency boilers from 2022.
Vaillant is one of the only heating appliance manufacturers to produce both high efficiency gas boilers and heat pumps in the UK. Drawing on its experience in developing innovative, industry leading heating technologies, Vaillant has invested in significant research and development into heat pumps over the last decade and is said to be unique in its contribution to the UK Government's strategy for the reduction of carbon emissions from heat and hot water demands.
Having led the innovation of highly efficient gas appliances since 1874, Vaillant believes that no one single technology will address the decarbonisation challenge. A combination of hydrogen gas boilers, heat pumps and hybrid systems along with controls and internet connected solutions will be key to meeting the Government's targets.
Vaillant Group UK currently manufactures around half a million natural gas and liquified petroleum gas (LPG) appliances at its Belper plant for the UK market. From 2022, the capacity will be increased to include the aroTHERM plus air-to-water heat pump. Launched in 2020, the aroTHERM plus is one of the only products available in the market to use the natural refrigerant R290 with a Global Warming Potential of just three.
This diversification in the market brings new opportunities as well as challenges for installers and consumers. Vaillant believes there must be an urgent increase of support for installers in the industry to expand their skills to accommodate heat pumps if the Government's target of 600,000 heat pumps sold per annum by 2028 is to be met.
Supporting this need for training and upskilling on heat pump technology, Vaillant offers vocational courses to support the transition to new heating technologies as well as product training and CPD with its blended learning approach to knowledge about the decarbonisation of heat. This can be carried out online, and in one of six Centres of Excellence and other partner training locations across the UK.
Klaus Jesse, Managing Director for Vaillant Group UK and Ireland, commented: "As a leading heating manufacturer, we take our responsibility to support the decarbonisation challenge very seriously. Having been at the forefront of research and development of high efficiency gas appliances as well as heat pumps, Vaillant is also investing heavily in future hydrogen and green gas technology. There will not be one technology which singularly addresses the climate challenge, and it's important that both the Government and the heating industry recognise and educate the market on the benefits of each technology, based on the needs of the customer and the property."
Joe Dunn, Plant Director of Vaillant Industrial UK, added: "This is a huge step forward for Vaillant in the UK. We currently manufacture an extensive range of highly efficient boilers at our award-winning factory in Belper, Derbyshire. This is a fantastic opportunity for our existing team to develop our skill sets ready for our product diversification and create new roles for the local area. As the demand for renewable heating technologies grows at an unprecedented rate in the UK, the Vaillant manufacturing facility will be well placed to meet the demands of the market, contributing to Government targets for the decarbonisation of heat."
Business & Energy Secretary Kwasi Kwarteng said: "With home heating contributing around a third of all UK emissions, we need to support people to replace their appliances with lower carbon, more efficient technologies, such as heat pumps. Doing so will not only help the UK eliminate its contribution to climate change, but ensure our homes are warmer, more energy efficient and cheaper to run.
"Today's announcement from Vaillant is a significant boost to our plans to kick-start a heat pump manufacturing base in the UK so we can develop a range of new low-carbon technologies, create jobs and meet our all-important target of installing 600,000 heat pumps each year by 2028."
Minister for Investment Gerry Grimstone said, "This Government is committed to decarbonisation and Vaillant's facility expansion will make an important contribution to efforts to build back greener.
"The UK has a long-standing history in the manufacture of heating appliances and Vaillant's further investment is an endorsement of the UK's competitiveness in the sector. This will not only help to meet the demand in a growing heat pump market, but also drive the creation of highly-skilled green jobs, future growth opportunities and exports."