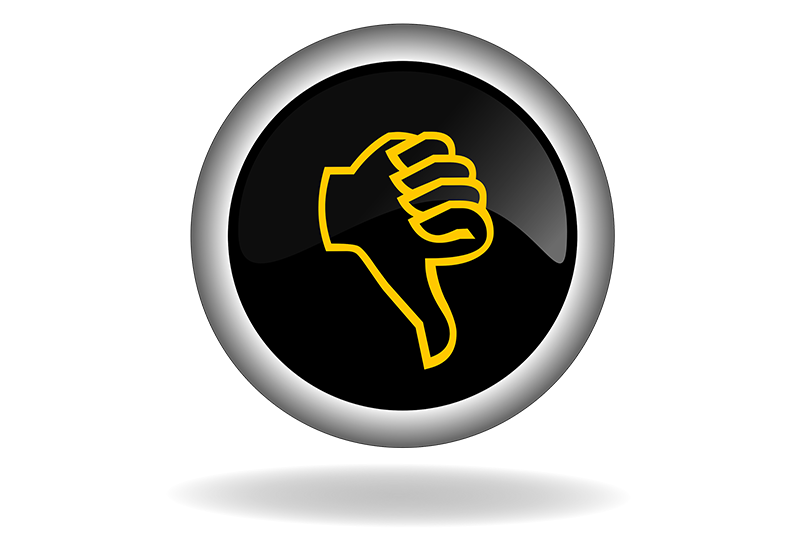 Across the expanse of the internet, those who dabble in bad web design lurk in the dark, waiting to offer up their goods to unsuspecting customers. The difference between a good web designer and a bad web designer is not necessarily price but experience (although a £500 website is always going to be better than a £50 website). Whilst design is subjective, good web designers know the basics of what works. A good web designer will tailor your website to your business and will ensure that you've made a sound investment.
Before we discuss the impact bad web design can have on your business, we should say, as a rule of thumb: don't go with the first web designer you find (or who finds you!). Take the time to do some research – read reviews, look at examples of their work and ask questions. You don't want to find yourself let down, out of pocket, with a website that doesn't generate the conversions you wanted from it.
So, what is the cost of bad web design?
Slow loading times
Bad first impressions
Poor customer experience
Poorly thought through copy
Doesn't meet your users' expectations
Slow loading times
High speed internet. Full fibre broadband. 5G. People's attention spans are getting shorter and shorter. A difference of mere seconds between the loading time of your site and your competitors may give them an edge. The longer your site takes to load, the fewer people will stick around, and the smaller your conversion rate. Don't give your potential customers the chance to disappear before you've shown them what you're all about!
Portent found that a 0-4 second page load time is best for conversion rates. This is your sweet spot. The quicker the better, but if you've hit a loading time of 5+ seconds, you're in trouble.
So what slows down web pages? Video and audio files for a start; particularly if they're autoplaying ones. It's good to stay away from autoplay as a matter of tasteful design anyway – this is a website, not a Myspace page – but they should be kept off your site for the loading implications too. Large images will also hurt your chances of achieving a faster load time. It's always worth ensuring they're compressed before upload. You'll lose very little quality and you'll be grateful for the good it does your website.
Additionally, a good web designer will make sure that loading time is just as good on mobile as it is on desktop. Your potential customers are as likely to discover your website on one device as the other, so it's vital you have good load times on both.
Bad first impressions
In this new digital age – especially in a post-lockdown world – your website is your shopfront. You want that shopfront gleaming, nicely arranged, well dusted. This is because upon first glance, a potential customer is already drawing inferences about your business. Professional web design will lend your business an excellent first impression. On the flip side, a website that's been shoddily designed can easily damage your company's credibility. Furthermore, a website that was well designed, in say, the noughties but hasn't been refreshed since, can make you look out of touch.
Good website design is a craft. If people can see you've put care into your site, they will believe that you are a professional who will transfer that care into the work you do for them.
Poor customer experience
Web design has certain standards that should be adhered to, just because they are what the user is used to. Clickable contact details at the top, a menu with no broken links, important information at the top of the page – going into detail below. A structure that is easy to navigate around is an inherent part of the user having a good experience on your site.
Your potential customer needs to be able to extract the information they need from your website with ease. If your site is laid out in a frustrating fashion, they will just give up and move on to your competitor's site.
Poorly thought through copy
The copy on your site should engage the customer. It should make them feel as passionate about your work as you do. It shouldn't be too wordy, nor should it be too brief. It should be informative and it should address the customer directly. You are not speaking to some faceless entity – you are welcoming a potential client.
A good web designer will also include calls to action. These are instructions that tell your customer to do something, such as 'Contact us now!' or 'Grab a quote today'. Calls to action can improve your chances of a conversion. They shouldn't be overused – you don't want your customer to feel bombarded – but a few peppered in here and there help your website towards functioning at its full potential.
Well thought through copy gives consideration to optimising your website for search engines. If your copy is lacking this, it is unlikely your website will turn up organically in searches. Keywords need to be featured in the text – these keywords being whatever your customer is searching for. If you offer boiler repair in Manchester, searching for 'Manchester boiler repair' is likely how your customer will be finding you. Make sure this phrase features prominently.
Doesn't meet your users' expectations
Ultimately, having a poorly designed website will result in you not meeting your users' expectations. From not being able to find information with ease to not meeting standards of professionalism they're looking for, a bad website lets your potential customers down.
GOOD web design, on the other hand…
If you're looking for a digital marketing company to design you a website, bespoke to the needs of your business, then Shake and Speare might be the perfect people for you. We take pride in consulting with our clients every step of the way. We make sure to explain what we're doing and create an online presence that fits seamlessly with your business. So, if you're in need of professional web design for tradespeople, shoot us a message.