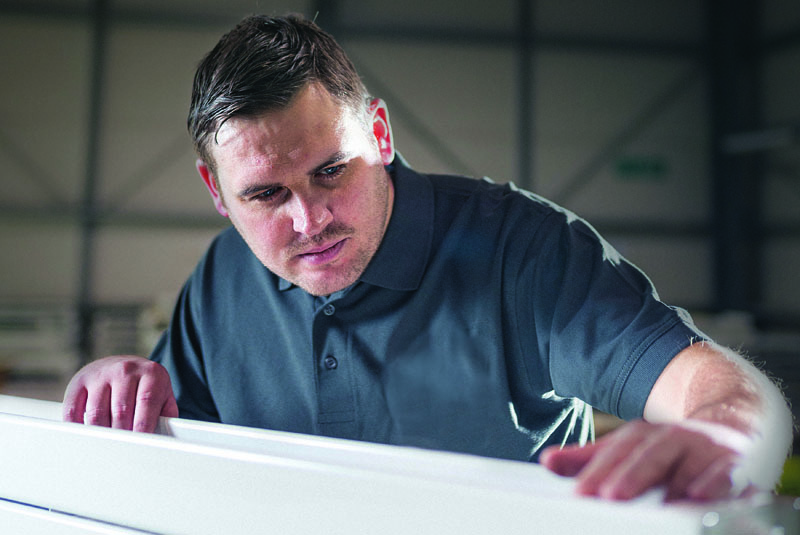 Mike Patching, Product Development Manager at Barlo Radiators, explains why emitters sit at the heart of heating system efficiency, and how they present an excellent revenue generator for installers, particularly when upgrading older systems or in heating off-season.   
With heating and hot water accounting for the largest portion of people's energy use, boiler upgrades continue to be in high demand from homeowners looking to make efficiency measures and cost savings. This, matched with initiatives like the Government's free boiler scheme and Boiler Plus legislation, means boiler upgrades, replacements and servicing are commonplace for installers.
However, there's another big business opportunity for the taking. While it makes complete sense to ensure the heat source is modern and efficient, that only solves one half of the efficiency equation. The reality is, a modern condensing boiler will only ever work effectively if it's matched with equally efficient heat emitters. Without them, it simply can't do its job.
A holistic approach to efficiency
Installers need to take a whole-system approach – pairing a super-efficient boiler with an outdated, under-performing radiator could ultimately undo its energy-enhancing benefits.
So how do installers spot an efficient radiator? On the surface it can be difficult, as one panel radiator can look much like the next. The truth is, if you look a little closer, you'll find not all radiators are created equal, and efficiency levels can vary vastly.
Efficiency is governed mainly by heat transfer rates and water content, so you need to look at the waterway pitch (the space between water channels) and the convector fin configuration. The narrower the pitch and the more fins there are, the faster the heat transfer, the lower the water content and the higher the efficiency – allowing rooms to get warmer, quicker.
Nowadays you'll find there are three generations of radiator. The most modern and efficient are third-generation models, which feature the smallest pitch (just 25mm), the most fins and the market's most dynamic response – providing high heat outputs and fast heat-up times. By swapping old first-generation panels (designed in the early days of central heating) with third-generation alternatives, you can improve system efficiency by around 20%, reducing boiler run times considerably.
Off-season boiler checks
The opportunity to educate customers about whole-system efficiency isn't just there during the busy winter period. It's this time of year – "heating off" season – when installers can encourage homeowners to forward-plan their efficiency measures.
In warmer months, installers are typically kept busy with service calls and annual checks. This means analysing flue gases, checking valves and controls, and upselling extras. But our advice to installers is, don't stop there. Undertake a wider efficiency review when servicing the boiler, as this could lead to a number of system upgrade opportunities.
Check radiators for signs of corrosion, wear or damage – rust spots or leaky valves, for instance. If you spot any issues, you can plan a replacement and customers can avoid future distress purchases and high call-out fees. Another option is to encourage customers to consider radiator upgrades. Start with high-occupancy rooms where they could make the biggest savings. Most people will have a phased approach to their radiator upgrades, so this could create a strong repeat business opportunity.
Our message is loud and clear: don't overlook the role of the radiator. For installers there's an education job to be done with homeowners, ensuring they fully understand the importance of radiators in their heating system upgrades. Those who make the most of this opportunity are set to reap the rewards of an excellent new revenue generator.