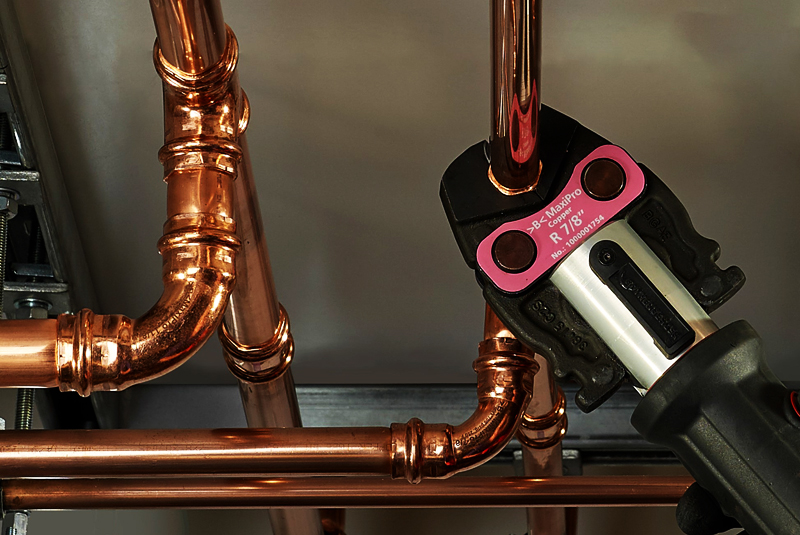 For more than a century, Conex Bänninger has been at the forefront of product innovation. PHPI reports.
The two halves of the Conex Bänninger story begin in Birmingham and Giessen respectively, finally coming together some 96 years after Carl Bänninger set up his iron foundry in Germany. The parallels between the two in that time, though are clear – with both being in the vanguard of product innovation. Since their merger under the IBP Group umbrella in 1994, that approach has continued apace… even more so since IBP's acquisition by IDD Group in 2011.
The list of product development firsts is considerable: copper-based >B< profile press fittings for heating and plumbing applications; copper iron fittings for high pressure ACR; >B< profile press fittings for ACR; and so it goes on. With 110 years of expertise and 22 billion fittings installed worldwide, it would be easy to focus on past triumphs – but this is very much a forward-looking company.
What's in a name?
Ever wondered where the Conex name originated? Well, wonder no more. Quite simply, the "Cone" part comes from cone fittings; the "x" relates to the (undetermined) pattern number.
>B< Sonic
Most installers will be familiar with the Cuprofit range, which has been relaunched as >B< Sonic to bring it in line with other products in the manufacturer's portfolio that carry the >B< marque.
The flame-free copper push-fit plumbing system, first introduced in 1998, is designed to offer significant time saving, while providing a secure, leak-proof joint. It is also demountable and re-usable. Technical advances have enabled the fittings to be modified and simplified, while maintaining the quality of fit.
Syed Reza, >B< Sonic Product Manager, said: "The push-fit system continues to be highly popular with installers, having led the way when it was introduced in the late 90s. The technology has evolved since then and we are very excited about this latest development in which fewer components are required. With this step forward it's the right time to give it the distinctive >B< marque, which is recognised throughout the industry as a stamp of quality."
WRAS approved, the >B< Sonic fittings are suitable for use on drinking water and other hot/cold water systems, including central heating. They are manufactured from copper and DZR brass bodies and incorporate an EPDM O-ring and stainless steel grab ring.
Available in sizes from 10 to 28mm, they are designed to connect with hard, half-hard and soft copper tubes. Maximum operating pressure is 16 bar at 30ºC, rising to a maximum temperature of 95ºC at 6 bar.
>B< MaxiPro range extension
The company has extended its >B< MaxiPro product range as demand for the flame-free press system continues to grow.
The new fittings include three types of long coupler, copper flare joints available with brass and stainless steel nuts, a range of copper flare washers in different sizes, and a suction line P-trap. A 100 ml bottle of press fitting lubricant has also been added.
Richard Leigh, Group Deputy Technical Manager, said: "In every market that we have launched >B< MaxiPro, demand has been strong and continues to grow. Every week we are training more engineers who see the benefits of using this innovative product as a quicker-to-fit, reliable alternative to traditional brazing.
"As a flame-free copper press joint, there's no need for a hot works permit and the risk of fire is eliminated. With the initial >B< MaxiPro range proving to be so popular, it was only natural that we would extend the range."
>B< MaxiPro was developed specifically for use in air conditioning and refrigeration applications. It is designed to be used up to a maximum operating pressure of 48 bar, with a maximum operating temperature range of -40 to 121°C. It has the benefit of a 3-point press, with one press each side of the bead and one compressing the O-ring, providing a permanent, leak-free joint.
When professionally installed by a trained and certified >B< MaxiPro installer, the fittings are covered by a five-year extended guarantee (terms and conditions apply).
The human touch
"Not only in business, but also in life… it's all about people." – Mano Bakhtiari, CEO at IBP Group
Celebrating 110 years
As part of its 110th birthday celebrations, even we were allowed to get hands-on with the company's products. Here's our own James Moore demonstrating his press "skills". All assessments of his technique are welcome!
Trade press press! #CB110 @ConexBanninger @JamesPHPI pic.twitter.com/3KzKV83LmM

— PHPI magazine (@phpi) May 15, 2019