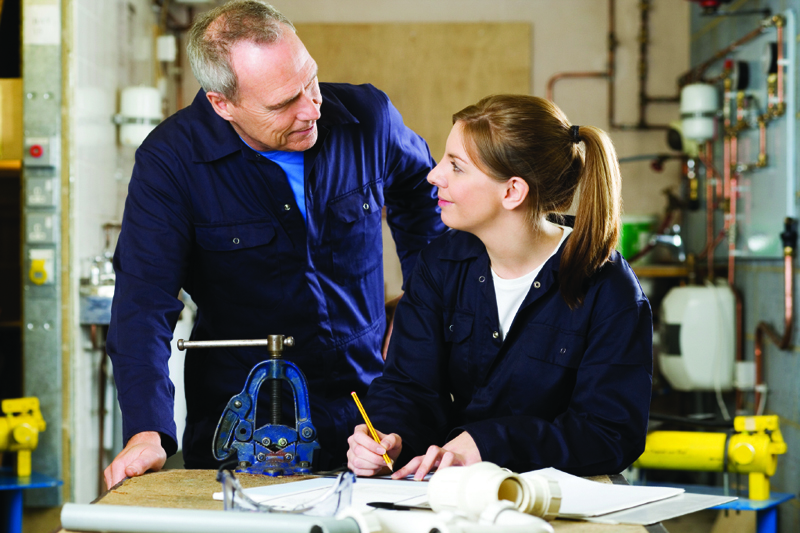 Kevin Wellman, Chief Executive Officer of the Chartered Institute of Plumbing and Heating Engineering (CIPHE), shares how the UK's annual National Apprenticeship Week is helping to shine the spotlight on new talent.
This March (4th to 8th), the 12th National Apprenticeship Week takes place. For those who aren't aware, each year National Apprenticeship Week strives to inspire and celebrate the impact of apprenticeships on individuals, employers and the economy.
At the CIPHE, we and many of our members realise that as an industry we need to shout about the benefits of apprenticeships. We need more school leavers and mature students to consider an apprenticeship, but equally business owners in the plumbing and heating sector need to invest in training and then employing them too.
Why is it worthwhile?
While there are many awareness weeks hosted throughout the year, often at times what feels like too many, National Apprenticeship Week is important for many reasons.
For one, it is a week concerned with the future fulfilment of vocational careers – plumbing and heating included. Without more apprentices, our ageing workforce is at risk of retiring without having helped train the next generation of skilled professionals to forge a successful career.
In terms of its reach and influence, National Apprenticeship Week cannot be underestimated. In 2018, over 300 schools joined in the 10,000 talks movement to reach 33,500 people. A further 130 schools hosted teacher-to-teacher talks – reaching an additional 2,300 individuals. As part of the week last year, 20,000 people were reached over a live video stream, which showcased apprentices and employers sharing their apprenticeship stories. If you agree that we need more people to be aware of how valuable an apprenticeship is in order to expect more apprenticeship enrolments, then the value of National Apprenticeship Week cannot be denied.
Getting involved
Many apprentices, businesses who employ them, colleges and training facilities are getting involved with National Apprenticeship Week. You can follow updates on Twitter via the hashtag #NAW2019, or even get involved yourself by reaching out to local schools and colleges to offer to help with talks to inspire students to consider a plumbing and heating apprenticeship. If you already employ an apprentice, you might like to encourage them to speak up about what it is like to be an apprentice and invite them to share their story.
To show our support, the CIPHE will be sponsoring a competition and event at Havering College during the week. The winners of the competition will be presented with their prizes on 11th March, which corresponds with World Plumbing Day.
Employ apprentices
Sole traders and SME businesses alike can benefit from hiring an apprentice, so if you have been thinking about expanding your team in 2019, the CIPHE can help you. What's more, as part of the Apprenticeship Levy funding, if your business has a payroll of less than £3 million per annum, you will only have to pay 10% towards the cost of providing the training and assessment for your apprentice. The Government will pick up the rest of the tab via the Levy collected from larger businesses.
A further £1000 incentive payment is also offered for anyone recruiting 16-18 or 19-24 year-old apprentices who were formerly in care or who have an Education, Health and Care (EHC) Plan.
The CIPHE is proud to be a supporter of National Apprenticeship Week. For more advice about employing an apprentice, or if you would like to become a member, contact Tim Sainty via [email protected] or call 01708 472791.