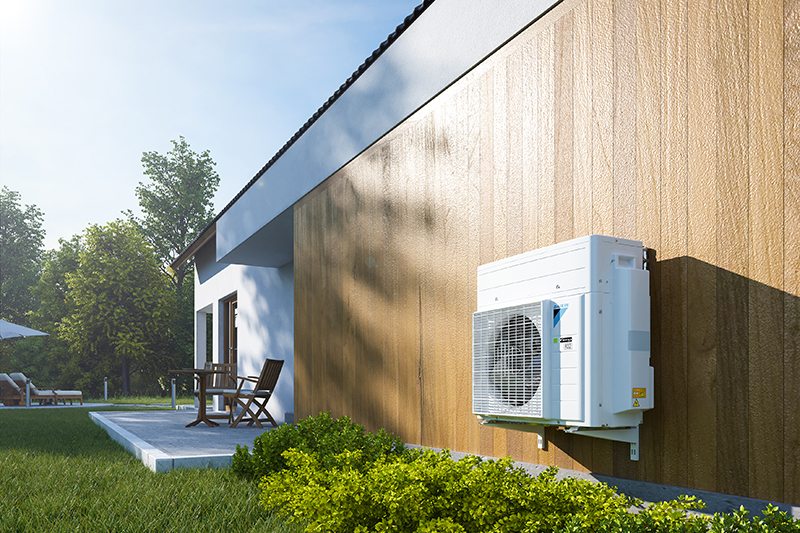 Iain Bevan, Commercial Manager of Heating & Renewables at Daikin UK, explains why now is the time to get heat pump savvy.
To make the UK's 'net zero by 2050' commitment viable, the Committee on Climate Change has said that 19 million heat pumps will need to be installed nationwide. And to get us there, an interim target has been set of 600,000 heat pump installations per year by 2028.
Newbuild homes can make a significant contribution, with the government aiming to build 300,000 per year by the middle of the decade, when the newbuild gas and oil boiler ban comes in – but there's also a big job to do in terms of upgrading the way we heat our current housing stock.
That's why it's vital that homeowners and housebuilders have a good understanding of the benefits of heat pumps – as well as access to certified installers with the skills and knowledge to provide them.
Industry estimates predict that 17,000 new heat pump installers will be required in the next decade, to decarbonise our heat supply and meet the targets that have been set.
Heat pump growth
Heat pumps are one of several different heating technologies being explored as alternatives to oil and gas boilers, and they're by far the most established, which means they can easily be rolled out at scale.
Confidence in the future of heat pumps is continuing to rise and it is anticipated that the number of parts and components ordered by manufacturers will double this year, in respond to growing demand.
With so many different options available for homeowners, there's a heat pump to suit almost any type and size of home, and to meet varying end user demands for performance, efficiency and energy savings.
Air-to-water heat pumps, for example, are ideal for homeowners looking to go fully renewable. This year, we've launched our new generation all-in-one air-to-water heat pump – the Altherma 3 Monobloc.
It's ideal for any property where space is at a premium, because there's no indoor unit needed – and that also makes it quick and easy to install, without the need for F-Gas qualification.
As well as maximising space in the home, the new unit offers savings compared to traditional heating systems due to its high efficiency and low running costs – and can save the average UK household up to £378 on heating each year.
Hybrid heat pumps are another great option, ideal for smaller homes in urban areas – that are likely to have a combi-boiler – and where the shell of the building is not energy-efficient enough to rely on electricity alone.
Hybrid systems combine the power of a heat pump with the familiarity of a high efficiency boiler, making them the ideal solution for both installers and homeowners who are new to renewable technology.
And while hybrid heat pumps can be installed with a household's existing boiler, to help installers seal the deal with their customers, we're running a special offer at the moment, whereby every homeowner who buys a Daikin Altherma hybrid system gets a brand-new, high efficiency boiler for free.
Help is at hand
The government's Green Jobs Taskforce has been set up to ensure the UK has a pool of skilled workers to help deliver net zero, including by supporting people who are retraining to work with green technologies. And at Daikin, we're doing our bit as well.
Installers who join our Sustainable Home Network can benefit from free, hands-on-tools training at our industry-leading training centres around the UK, to develop their heat pump installation and commissioning expertise. Other benefits of joining the network include dedicated technical support, sales ready leads, business support and special offers.
This year, we're also running a free hybrid heat pump training programme at 11 of our Sustainable Home Centres across the country. The course is one day long, and covers installation, electrical connections, hydraulics and system start-up – everything installers need to know, to take their first step into the renewable heating market.
The time is now
Heat pump technology is more than just a trend; it's the future. Installers need to adapt and transform their businesses to remain relevant in the long-term, and those that do so first will enjoy a competitive advantage, at least to start with.
When it comes to renewables, housebuilders are buying at scale, and individual homeowners are stepping into the relative unknown, which means word-of-mouth recommendations are more important than ever – so each successful job should open up more work.
https://www.daikin.co.uk/en_gb/installers/partner-programmes/domestic-installers/sustainable-home-network.html.
Altherma 3 Monobloc air-to-water heat pump
The Altherma 3 Monobloc air-to-water heat pump from Daikin is the company's smallest unit yet. It requires no indoor unit and the outdoor unit has been designed to improve airflow, cutting down on unwanted noise.
The unit comes in four different capacity ranges 9, 11, 14 and 16 class, which are suitable for homes of various sizes. The heat pump system uses R32 refrigerant which requires 30% less refrigerant charge than a R410A equivalent unit and achieves 75% lower CO2 emissions than previous Monobloc units. The unit has an operational range of -25 to 60°C.
Homeowners can monitor energy consumption and control the performance of the unit using the Daikin Residential Controller App, and through Google Assistant or Amazon Alexa.