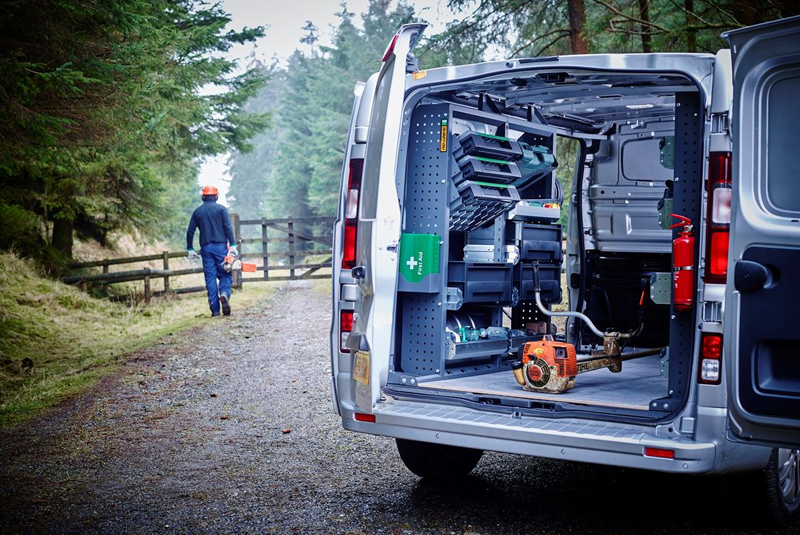 The smart people at Bott explain how your van can play a crucial role in racking up extra business success by utilising unused space.
You may have invested heavily in acquiring the van of your dreams but, to truly get the best returns from it, you really should consider a professional racking system. For some, that probably implies the use of some form of ply-based racking, because it's cheaper in the short term, and can probably be carried out by yourself. However, don't be easily fooled. When it comes to busy tradespeople, DIY isn't the solution you should be settling for.
Our expertise in developing the Smartvan system over 30 years ensures clever design that utilises otherwise wasted space to give maximum storage for your tools and materials without compromising on your load area. Unlike traditional box-shaped ply racking, this quality steel racking is based on slimline frames fitted on either side of the van, sitting in the wheel space over the wheel arch to keep most of the central loading area free.
Each customer has the option of designing their own racking kit online using an innovative van racking configuration tool (config.bottsmartvan.co.uk/vehicle) choosing from simple trough shelving, tool case holders, perfo panels with hooks, portable cases, or a mixture of all of them. Shelves and other accessories are height adjustable, interchangeable, and can be positioned at different depths to follow the contours of your van and make use of space normally unachievable with traditional van racking. What's more, the shelves can be moved around within the racking as your tools, kit or work style changes over time.
Vehicle-specific designs for small, medium and large vans match perfectly to your van's existing manufacturer fixing points, eliminating wasted time spent measuring or trimming. Most importantly, the Smartvan system involves no drilling, so doesn't damage or devalue the van. It can also be fitted over the top of the ply lining and is compatible with all manufacturers' floors. However, if you want an idea of the fitting process before purchase, these instructions are available to view online and, if you have fitting issues, help is available at the end of the telephone.
As well as saving valuable time and money searching for tools, clever removable storage can be taken to the actual jobsite to eliminate the need to keep returning to the van. And, with steel racking weighing less than traditional ply, fuel economy is enhanced.
Despite no official tests or regulations for van racking, each kit is rigorously crash tested to EU EEEC/R17 standards to ensure the highest possible safety. The lightweight steel is fixed securely using the manufacturer's existing fixing points, so as not to compromise any structural areas of the van. The system is also designed to keep tool cases and storage boxes firmly in place during transit, the frames having built in lashing rails whilst optional extras such as anti-slip mats and lashings straps prevent loads from sliding around, are offered.
Such a sophisticated system is clearly more expensive than ply but, by the time you take into account the planning, measuring, materials and wear and tear that will naturally occur over the years, it's much more competitive than it may initially appear. Modules start at around £230 and finance packages are available to spread the cost.
Each system should last for two van cycles and comes with a three-year warranty.
Find out more about Bott Smartvan van racking, shelving and storage systems here