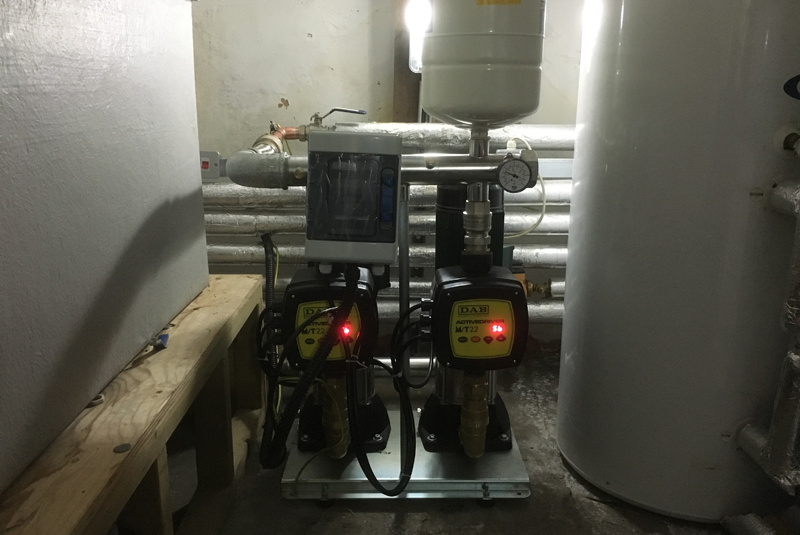 There is no single solution for boosting water pressure – what might work in one situation may not work so well in another. It is important therefore to treat every boosting enquiry on an individual basis. Pump World's Director, Nigel Harris, explains more.
Understand the property
The first step is finding out the property specifications: how many floors are there? How much space is available to store pumping equipment? How many water outlets are in the property? What are the pressure ratings of these water outlets? Is the property in a hard water area? Is the property in constant use, or is it left idle for certain periods of time?
Now, find out about your client and their goals for the project: what is their budget? What bar pressure are they hoping to achieve? What's most important – low noise, performance, energy efficiency? If you have a nursing home client, or hotel, do they need to make sure there is a back-up option if a pump fails?
Conducting this research before starting your specification process is vital, and should save you time and money in the long run.
Specification
When boosting water pressure, there are lots of products out there, from Systempro whole house boosting package solutions to mains boosting sets, pumps connected directly to the mains, accumulators paired with booster pumps, underground packages, and shower pumps.
Firstly, look at the options that will actually do the job: boosting the water pressure to the specifications outlined by your client. Here is where you have to do some calculations, including: calculated normal demand flow rate, calculated peak demand flow rate, static height difference between supply tank water level and highest outlet in system, required pressure at the highest outlet, friction losses at peak flow rates, and percentage of pump redundancy required for emergency cover at peak demand.
Once you know this information, you can rule out some of the potential solutions outlined above. For example, if you have worked out that you will need to pump more than 12 litres per minute to achieve your client's goals, you can say goodbye to pumps connected directly to the mains. This is because, when boosting mains pressure above 12 litres per minute, you are required by most water authorities to use a break tank with a booster pump.
Now, let's think about a commercial situation. Here, it is not just the product(s) that you have to consider, but also the back-up and customer support. If you are boosting a property that cannot operate without water for any period of time, you will need to not only specify the most reliable solution, but also have the assurance that there is a failsafe back-up structure in place that supports you if anything goes wrong.
Product-wise, a pump set with Duty, Assist and Standby options could well be the best and most reliable option. Specifying a solution with assist and standby options gives both you and the client peace of mind that should something go wrong with one pump, or even two, you always have a back-up option.
Outsourcing
If the specification tips above feel overwhelming, there are many independent suppliers out there who can specify the right products for you. Pump World offers an independent specification service to help installers find the right solutions for their clients. Ask your local merchant to get in touch with the Pump World technical team, and relay your project details.
Alternatively, contact the team yourself to discuss the project, and let us know which merchant you would like us to quote. We will then contact the merchant on your behalf with all the specified products.
If you would like to find out more about the products we specify, make sure to browse the newly published Pump World brochure, R U Under Pressure 11. You can request a copy from our website.
Maintenance and link-selling
Pumps and mains boosting sets need regular maintenance to keep their warranties valid. Leave your card with the client or leave a label on the pump/mains boosting set with your contact details. You could even set up a reminder service, texting your client when their maintenance is due.
If your client lives in a hard water area, or their property is left idle for months at a time, offer water treatment products as part of the boosting package.