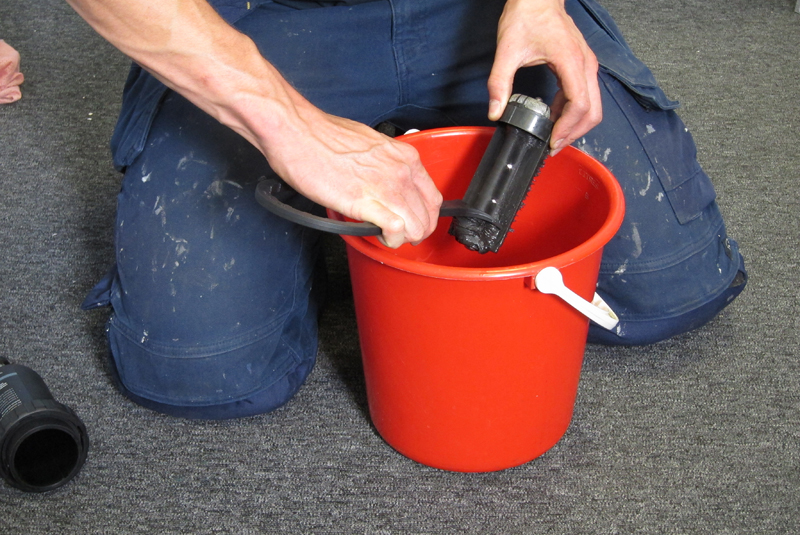 With a wealth of products on the market, constant technological developments, and a plethora of best practice information available, even the most seasoned installers reach out for advice from time to time. Here, the technical team at BoilerMag answers the most frequently asked questions they come across from heating engineers.
I need to install a boiler filter, but I'm stuck for space. What can I do?
We're often approached by heating engineers who are struggling for space to fit a boiler filter. Spaces under boilers can be limited; there's often a tight cupboard space, or a work surface in the way.
Despite being larger in size than some of the other boiler filters on the market, the BoilerMag domestic has a 360° install capability. This means that the filter can be fitted at a 90° angle on vertical pipework leading back to the boiler. And its dual flow design means that performance is not affected.
As the magnet is not pulled clear from the top, the BoilerMag only requires 25mm clearance to access the magnet, making it easy to fit and service.
How easy is a boiler filter to service, and how often should this be carried out?
On well-maintained systems, boiler filters should be cleaned out annually for optimum efficiency of both the filter and the heating system. Cleaning and servicing is relatively easy. We always recommend having a container ready to hold a minimum of 750ml to empty the contaminant into. Because the cartridge can be fully removed, it's easy to clean using the bowl spanner provided.
The mesh filter in the cartridge can also be checked for blockages. If you're retrofitting to a particularly dirty system, however, we'd advise servicing and cleaning the filter after the first month of installation, and then annually thereafter.
How many radiators can one boiler filter take?
Again, this will depend on model and brand, collection rate and capacity, but as a rule of thumb, an average domestic filter can comfortably service up to 15 radiators with normal contamination levels. For larger properties, it may be better to install a commercial or industrial sized filter for ultimate protection.
Where should I install the filter?
It is advisable to install a filter on the return pipe to the boiler rather than the flow pipe. Doing this ensures that the filter provides maximum protection for the boiler by capturing any debris which may be circulating.
Does fitting a filter restrict the system flow?
Most filters are designed to accommodate flow rates greater than the system flow, which means there is minimal loss in flow. Some filters, such as BoilerMag, are designed to maintain flow even when the magnetic core is fully loaded with contamination.
Can you dose chemicals through a boiler filter, and if so, how much can it hold?
A filter is often a great place to dose chemicals; it's usually easier to access than other points such as through radiators. You can dose through a BoilerMag domestic by removing the manual air vent on the top of the unit and adding chemicals in via this opening. If you remove the magnet and use it just as a dosing pot, the filter can take a full 500ml bottle of chemical.
Can boiler filters remove non-magnetic debris too?
Yes. As well as the magnet, the BoilerMag domestic also includes a no block mesh guard; this is a 0.5 micron mesh filter that is situated at the bottom of the chamber on the return to the system. The mesh will remove scale, pipe burr and flux, and the gauze can be removed when servicing so that it can be cleaned off and re-attached with ease.
Can you powerflush through a BoilerMag?
Yes. We've designed a Universal Flush Adaptor attachment that allows installers to carry out routine system flushes quickly and easily, by attaching flushing equipment to the filter, using it as the access point. Our flush adaptor is compatible with either screw fit or female cam lock hoses, and can be simply attached to the back of the BoilerMag port block, without fully removing the filter from the pipework. This allows flushing equipment from other leading manufacturers to be used in conjunction with it, too.
Are the washers rubber or fibre?
The BoilerMag only uses high-quality rubber washers and seals for its isolation valves, port block and body threads. Spare seals are provided in every box for the installer's peace of mind when servicing.
There are also no O-Rings in the body of the BoilerMag filter. The filter has been specially designed to incorporate a mechanical joint, reducing the risk of part failure and leakage.
PROJECT FOCUS: Saved by the bell
The heating system of All Saints' Church in Eaglescliffe, Preston-on-Tees has been protected with a BoilerMag XT industrial filter. Installed by Nigel Stoves Plumbing & Heating Ltd, this large heating system filter is a key part of a complete new boiler installation located in the church bell tower.
The nave, chapel and vestry of the church were built in 1903, and the bell tower and spire were added in 1959.
Matthew Stoves, Heating Engineer at the company, said: "We always use BoilerMag filters on our commercial heating and boiler installations due to price and quality. The filters are set up nicely for easy installation with flanges or female irons, and the price is extremely competitive.
"We installed the BoilerMag XT to prevent the build-up of ferrous oxide in the church's heating system, and to protect the life expectancy of the new boiler. The addition of a boiler filter to this system will also reduce energy bills for the church, and is very easy to maintain."