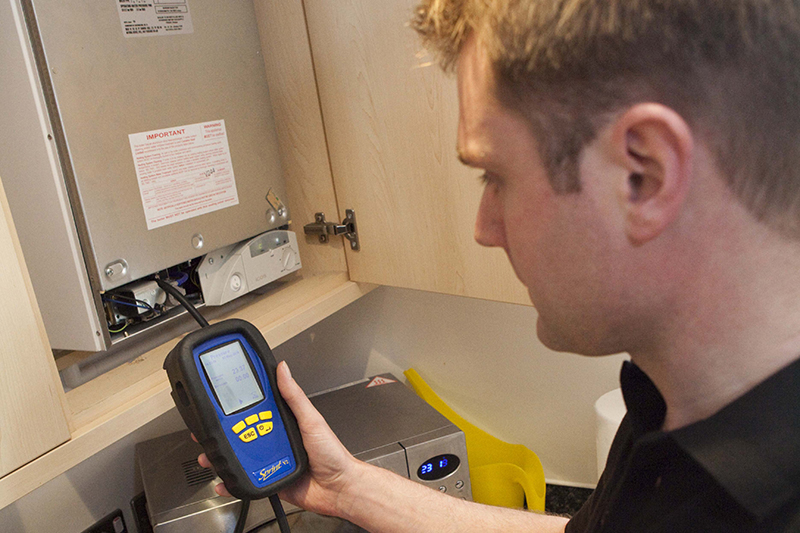 Billy Wilgar, Deputy Chair of the Benchmark Steering Group, looks at how Benchmark is being upgraded, and why going digital is a significant moment in domestic heating provision.
As we look towards the future of the heating industry, it's clear that fundamental technological, environmental and economic factors will continue to impact the work of engineers. From long-term goals, such as the development of new appliances and meeting net-zero targets, to more immediate concerns in light of the coronavirus pandemic, it's vital that the industry evolves to meet these unique demands and support those working on the front-line.
Going digital
Recognising that ways of working have changed since its introduction, the universal Benchmark code of practice has been revolutionised to make installations and services easier for engineers. With a backlog of routine maintenance accumulating following life in lockdown, and another busy winter ahead, there is an increasing need for engineers to complete jobs more efficiently and reduce the time spent filling in the paperwork.
The Benchmark checklist was established to raise standards and promote best practice in the heating industry, and is an important stipulation in boiler manufacturer warranty. Although a vital part of installations and maintenance, heating engineers will be all too familiar with the time-consuming paperwork, as well as some of the challenges faced when information on the history of a boiler is missing or incomplete.
In a bid to streamline the process, and encourage a whole-life approach to boiler care, Benchmark has gone digital. The new app, free to download on any tablet or phone, allows an engineer to register an appliance, complete the checklist, and save the information to a secure, consistent and easily accessible online hub.
The boiler passport
One of the app's defining features is its universal accessibility. Dubbed the 'boiler passport', the new Benchmark app holds all of the important details relating to a home's heating system, allowing an engineer to have access to its complete history, even if they have never worked on the appliance before.
This also applies to aspects of a heating system that are critical to carrying out a service, such as details of the chemicals present, reducing the time spent on site searching for the necessary information.
The app attributes each job to a specific engineer, which offers a way for competent engineers to promote best practice, while also ensuring those working in the industry are held accountable.
Changing consumer habits
Not only is the Benchmark app set to transform the heating and plumbing sector, it also offers a chance to influence homeowners too. A consumer version of the app will be released in the coming months, giving homeowners an easier way to keep track of their boiler's health, as well as sending push notifications when an annual service is due.
There is scope for the app to play a significant role for home-movers, with prospective buyers able to review an accurate and up-to-date history of a property's heating system before purchasing, and therefore encouraging boiler checks to be an integral part of the house buying process.
Shape the future
To celebrate the Benchmark app, a new campaign will be launched to highlight best practice. Users will be encouraged to share a job well done, by registering each installation on the app. Enhancing consumer trust, the 'Make your Mark' initiative will encourage engineers to take pride in their work, promote the Benchmark seal of approval and reduce the possibility of unqualified traders taking advantage of a high-demand market.