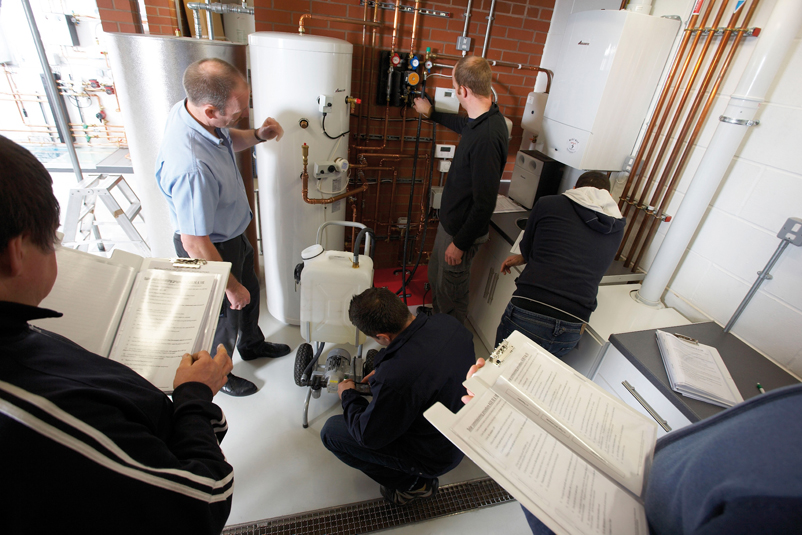 With so many high efficiency combi boilers being fitted in UK homes, the usefulness of a hot water storage cylinder can be overlooked. Martyn Bridges, Director of Marketing and Technical Support at Worcester, Bosch Group, discusses the current market and tackles the issue of when cylinders may still be required.
Prior to the emergence of the combi boiler, there was no alternative but to use stored hot water, even for the smallest of houses. When combis were introduced to the UK around 30 years ago, the benefits of instantaneous, multi-point hot water were clear and uptake was understandably quick.
Now we find ourselves in a situation where, of the 1.6 million or so boilers sold in this country each year, 1.2 million are combis. For this reason the dominance of combi boilers looks set to grow still, to the point where we expect them to account for 75 to 80% of all boiler sales within the next few years.
That said, there certainly are still several uses for hot water storage cylinders and this is emphasised by the fact that the remaining 400,000 Regular and System boilers currently sold each year must all be connected to a cylinder.
Installers will be aware that breakdown is highly unlikely among cylinders due to their lack of moving parts, and indeed this is one of their main advantages. However, given that an additional 100,000 replacement and additional cylinders were sold last year should offer encouragement to heating engineers when it comes to the continued potential for sales over the years.
Those who opt for what is a reliable and hardwearing means of heating and hot water usually do so for fairly distinct reasons, from practical requirements through to personal taste.
Larger properties
The first and most common of these is the employment of cylinder in larger properties. Homeowners who have two or more bathrooms regularly in use will struggle to find a combi boiler able to cope with demand, and in instances such as this, installing a cylinder (or cylinders), would be the perfect solution – allowing adequate hot water to be stored for use when it is needed. The size and/or number of cylinders will of course vary. For example, around 90 litres of hot water are needed to fill a bath, so two baths filled at the same time would require a cylinder of at least 180 litres. So the solution in each circumstance should be calculated depending on a customer's individual requirements.
Low pressure
Cylinders are also very useful when the water pressure within a property isn't great. To combat this situation, installers can fit a low pressure hot water cylinder with a cold water storage tank up in the roof space, which will mean that, irrespective of the cold mains water pressure, the homeowner will always get a reasonable hot water supply.
Back-up
Not all cylinder installations are borne out of necessity; rather, installers will find that some of their customers simply prefer the security of stored hot water. If, for whatever reason, a component goes wrong and the boiler fails, a cylinder offers the homeowner access to an electrical immersion heater which will protect them from the inconvenience of having to go without hot water until the problem has been fixed.
Renewables
Unsurprisingly, the final reason for installing a hot water storage cylinder would be for use with renewable technologies. Although there are ways of connecting a combi to a solar thermal system, generally speaking the solar panels will connect to a twin-coil cylinder and heat the water within, which can then be kept for when it is needed.
Like any technology, cylinders have their benefits and their pitfalls. By and large, the installers we speak to tell us that their customers want a combi boiler because they like that there's no storage of water and they don't have to wait for a cylinder to heat up. Yet there are clearly still several circumstances in which cylinders can be very useful. As a result, installers would be well advised not to forget about them entirely, as when they do they will be providing their customers with a source of heating and hot water which is built to last.