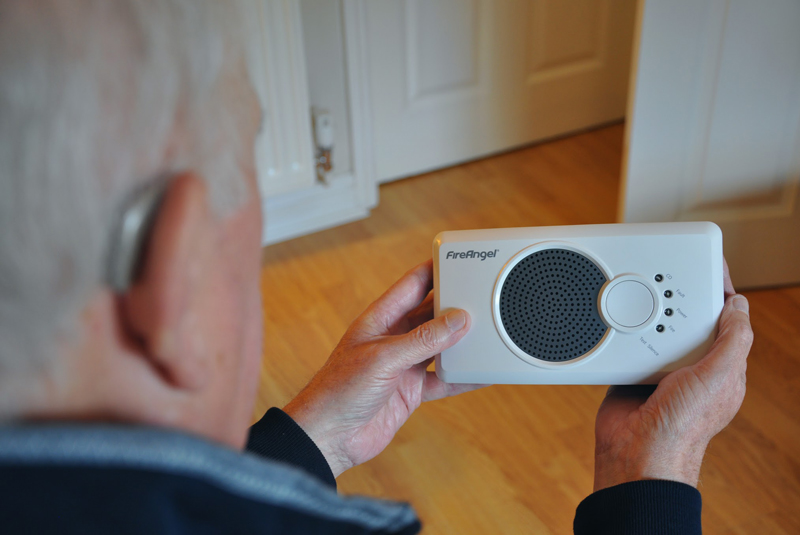 Over 13.3 million people in the UK are currently living with a disability, equating to almost one in five of the total population. James King, Sales Director at FireAngel, explores the additional considerations installers should consider to ensure all residents are adequately protected from potential fire and carbon monoxide (CO) risks.
Smoke alarms and carbon monoxide (CO) detectors perform a vital function in homes, providing early warning of fire and carbon monoxide poisoning. However, those living with a disability may often require additional preventative measures that not only notify them of a potential danger in adequate time to evacuate the property, but also prevent any potential dangers from fully developing.
Whilst one in five of the UK's population is living with a disability, another consideration is protection for the elderly. Figures released by Age UK in 2017 revealed that the number of people aged 65 years and over is projected to increase by more than 40% to over 16 million by 2033, whilst the number aged over 85 is set to double.
The importance of protecting our ageing population is clear to see in the context of government fire statistics, which show that over half of those killed in accidental dwelling fires are aged 65 and over and the risk of dying in a fire is four times higher than average for people aged over 80.
With this in mind, it is vital that installers are aware of the measures that can be put in place to provide the highest levels of fire and CO protection for residents living with disabilities, including mobility restrictions, sight loss and those who are deaf or hard of hearing.
Sounding the alarm
Approximately 10 million individuals currently live in the UK with hearing loss, whilst two million have sight loss. As the main way to notify individuals of the potential presence of fire is through a traditional alarm, installers must consider additional measures that notify high risks residents in alternative ways.
Low frequency sounders have been specifically designed to provide additional protection to standard smoke alarms in the event of a fire. By sounding loud blasts at a low frequency signal, the alarm is more likely to wake up or alert high risk residents, such as those with hearing loss, rather than the higher pitch of a regular smoke alarm which these high risk residents are less responsive to.
For residents who are deaf or have severe hearing loss, strobes and vibrating pads are additional forms of technology that have been developed to successfully notify them of the presence of fire or carbon monoxide. When alarms in the property detect smoke, heat or carbon monoxide the flashing strobe provides a visual warning, while the vibrating pad is designed to be placed under a pillow or a mattress and will wake an individual to alert them to a fire or CO incident.
Additional peace of mind
With regard to fire safety and individuals living with dementia, one technology specifically aimed at preventing potential dangers is a cooker shut off device. The regular activation of smoke alarms within a property can indicate that a resident is burning food or leaving food cooking on the hob, which can be an early indicator of dementia.
A cooker shut off system is an effective way of preventing a serious fire incident in the kitchen, where 62% of all domestic household fires originate, without the need for human intervention.
The safety device, also known as a stove guard, has an intelligent heat sensor that monitors rapid increases in temperature on electric hob cooking surfaces. If the temperature reaches a potentially hazardous level, the alarm will sound an alert and, if no action is taken, will automatically send a radio signal to a wired cut-off switch to turn off the electricity supply to the appliance, minimising the risk of a potentially serious fire incident.
Whilst there's a range of products designed to notify an individual of the presence of a fire or CO incident, other technologies have also been specifically manufactured to minimise the potential risks associated with a mains gas leak.
With over half of those aged 65 to 80 showing significant loss in successful smell identification, a concerning proportion of the UK may be unable to identify the presence of Natural Gas. Although additives including stench agents are added to Natural Gas so that it can be smelt, the majority of people over the age of 55 may struggle to notice the 'smell' of combustible gas before dangerous levels have accumulated.
Alarms such as Natural Gas Detector feature a semi-conductor catalytic sensor that continuously detects combustible gas, notifying residents when the concentration present in the property is high enough to become explosive.
Some alarms will trigger when the gas concentration reaches 10% of the lower explosive limit (LEL), alerting individuals of the presence of natural gas, enabling them to evacuate the property before a potential risk has fully developed.
With the rate of new housing continuing to increase ahead of the governments pledge to build one million new homes by 2020, safety product manufacturers are constantly striving to develop new and innovative ways of optimising resident safety and supporting independent living. Therefore, it is vitally important that installers are aware of the fire and CO solutions available to assist disabled individuals and the ageing population to provide the appropriate levels of protection where required.
For more information, visit fireangel.co.uk.