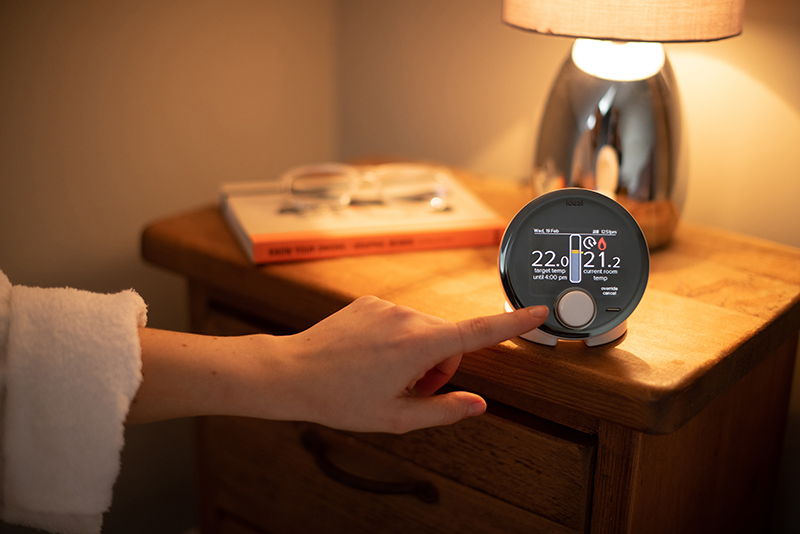 With homeowners demanding ever higher levels of functionality and intelligence in their homes, heating controls have evolved dramatically in the last few years.
Ideal Heating's new wireless programmable room thermostat range has been designed not only to look stylish, but also be easy to use and feature a straightforward installation process.
Called Halo, both the Combi RF and Halo Combi Wi-Fi are compatible with the company's Logic and Vogue combi boilers, and promise set up in minutes.
Inside the box are the Halo unit and the Smart Interface it communicates with, which slots into the aperture on the front of the boiler with no need for wiring. The Halo Combi Wi-Fi connects to the home Wi-Fi network through the Halo app with no need for an additional gateway.
Both the Halo Combi RF and Halo Combi Wi-Fi provide time and temperature control, and enhanced load compensation as standard – an easy way to comply with Boiler Plus when installing a replacement combi. The Halo combi Wi-Fi also fulfils the criteria for a smart control with automation and optimisation.
Lizzie Wilkinson, Head of Domestic Product Management at Ideal Heating, said: "We already know that our Logic and Vogue combi boilers are popular with consumers and installers for their ease of install, reliability, quality and value – and the Halo will truly take their experience to the next level.
"After a simple 'plug, pair and play' install sequence, households can enjoy more flexibility and control over their home heating – delivering comfort and energy efficiency. We've also carried out user testing on the interface and screen, to ensure the Halo is as easy as possible for consumers to use."
The Halo has a modern and high-end design with a mirrored finish and a dial and button interface. The unit is powered by four AA batteries and can be wall or desk-mounted.
The thermostat features a large, clear colour screen that displays both the actual and target temperatures, either side of a coloured temperature gauge. Any boiler faults are also reported on the screen, and the user is given clear information in plain English.
Up to six heating periods can be programmed throughout the day, and the schedule can be varied from one day to the next. Additional features include child lock, holiday mode and frost protection.
The Halo Combi Wi-Fi also comes with internet connectivity and app-controlled heating, enabling users to control their heating on-the-go, via a Google Home or Amazon Alexa smart home assistant, or simply by their whereabouts, via the Geolocation feature on the Halo app.
Geolocation
Geolocation uses the location of users' mobile phones to determine whether anyone from the household is inside a pre-set 'home' boundary, and automatically turns the heating off to save energy when everyone is out – as well as turning it on when they're on their way back home.
COMPETITION TIME!
We have a Halo unit unit to give away. To enter, simply fill in your details below before midnight on January 31st 2021.