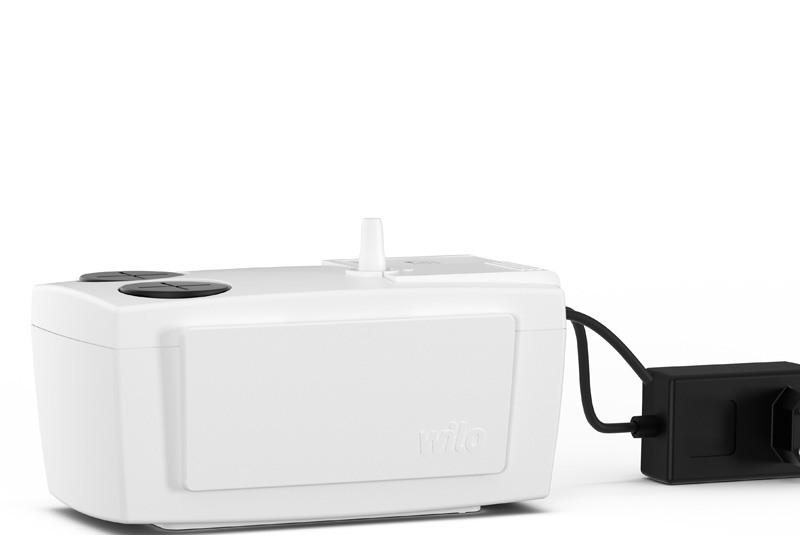 With the new Wilo-Plavis family of condensate lifting unit, Wilo is now launching onto the market a highly energy-efficient, low-noise and easily installable solution.
A condensate lifting unit it is responsible for collecting and pumping out condensation water from heating and air-conditioning systems. With its efficient and quiet motor as well as its easy installation method – called a 'Plug & Pump' method – the Wilo-Plavis is ideally suited for use in residential homes up and down the country that have an existing or newly installed domestic condensing boiler or a domestic air conditioning system.
The entire Wilo-Plavis range of products comes with a DC motor. The high-efficiency motor is said to achieve high performance with a low level of sound and power consumption. Running quietly – at less than 40 decibels – makes it roughly comparable to the background noise of a quiet library. The compact and modern design also allows these units to integrate into the installation.
The ready-to-plug system has adjustable inlets and a rotatable cover and motor, whilst servicing the system is said to be equally straightforward thanks to a removable service cap and an integrated non-return valve.
The fill level of the 1.1-litre tank in the Wilo-Plavis is monitored using embedded electrodes. The pump identifies the fill level of the tank and empties this automatically as required via a hose comprising an integrated non-return valve. This prevents backflow of the pumped-out condensate.
In addition, depending on the version, the system comes with an integrated LED alarm in the form of a visual error message, an acoustic alarm and a fault signal.
"The Wilo-Plavis is a logical extension of the pumping products we provide to the residential market and it's already finding a market in Europe, which we hope will be replicated here in the UK," says Wilo's Training & Technical Manager, Gary Wheatley. "The range of three models will meet all condensate removal applications here in the UK and will be welcomed by installers for its ease of installation."
For more information, visit: www.wilo.co.uk