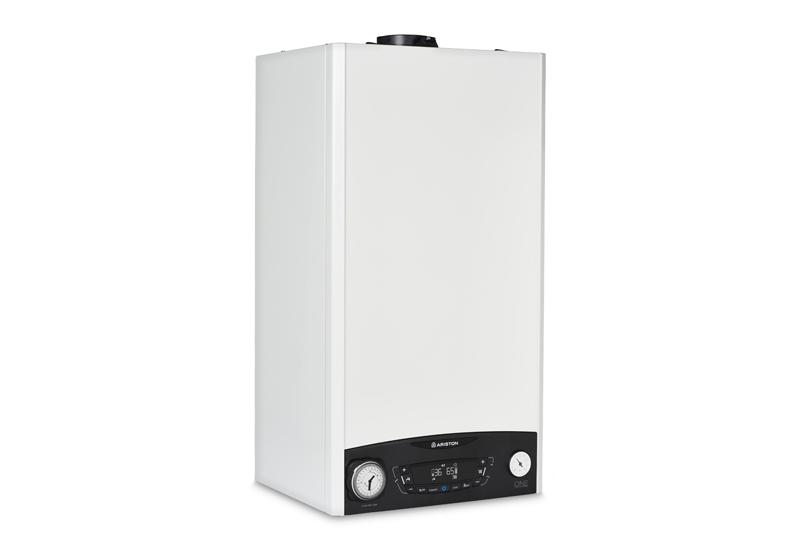 Ariston has launched its brand new ONE Series range of high performance condensing gas boilers and controls. Comprising three A-rated boiler models – the E-Combi ONE, Clas ONE and Clas Net ONE – the new range combines Italian design with the latest materials and a user-friendly interface. Intelligent, robust and efficient, the company asserts these are also the quietest units it has ever produced.
The boilers boast a patented stainless steel, continuous coil XtraTech heat exchanger. With 142% wider waterways than previous models, it allows water to pass through quicker and more effectively – ensuring less risk of blockages from debris. The component is said to be robust and operates well in a wide range of pH values, providing resistance to corrosion and prolonging the lifespan of the boiler.
Every XtraTech heat exchanger also benefits from an improved condensing surface and increased hydraulic performance, which combine to provide a better transfer of heat. Plus, it has been independently certified for safety, quality and usability by renowned European technical testing organisation TÜV Rheinland, offering reassurance to installers and end users alike.
Ease of installation
Lightweight and straightforward to install, with easy frontal access to all components and more room inside the casing, the new boilers have been designed to aid with commissioning, servicing and repair. The chassis is strong and durable, with no sharp edges, while installation is further aided by simple-fit connections, wiring and flue. Plus, not only are the new units fully compatible with the current range of accessories, they also have all connections in the same places – enabling an easy retrofit in place of an existing Ariston boiler.
Fitting controls is made straightforward, thanks to a colour coding system, which matches parts to a corresponding slot. All major components are also Ariston branded to highlight their authenticity.
Enhanced controllability
ONE Series boilers are fully compatible with the Ariston NET smart heating control, while BusBridgeNet technology allows communication with other Ariston products. This simplifies integration with a range of devices and heat sources, optimising energy consumption. The remote diagnostic capabilities of Ariston NET also ensure any faults are identified immediately, followed by remedial advice.
A brand new suite of controls has also been introduced to allow quick and easy access to Ariston NET. Both the Cube S NET Wi-Fi thermostat and Cube room sensor boast many advanced functions, including energy management, internet weather monitoring and a weekly scheduler programme, as well as holiday and override modes. Thanks to wired and wireless zone management kits, it is also possible to manage up to six heating zones with these controls,
In addition to these controls, all ONE Series boilers include a built-in 'AUTO' function, which monitors the ideal temperature for the heating system. This reduces peaks and fluctuations in flow temperature, ensuring the boiler consumes less gas and electricity, while avoiding on/off cycles.
Ariston's ONE Series range of boilers and accompanying suite of controls will be available from UK merchants and stockists nationwide from 1st November 2017. E-Combi One boilers will have a 2-year warranty, Clas ONE models an 8-year warranty and the Clas Net ONE will benefit from a 12-year warranty.
Installers keen to learn more about the features and benefits of the new products can discover more at: www.ariston.co.uk