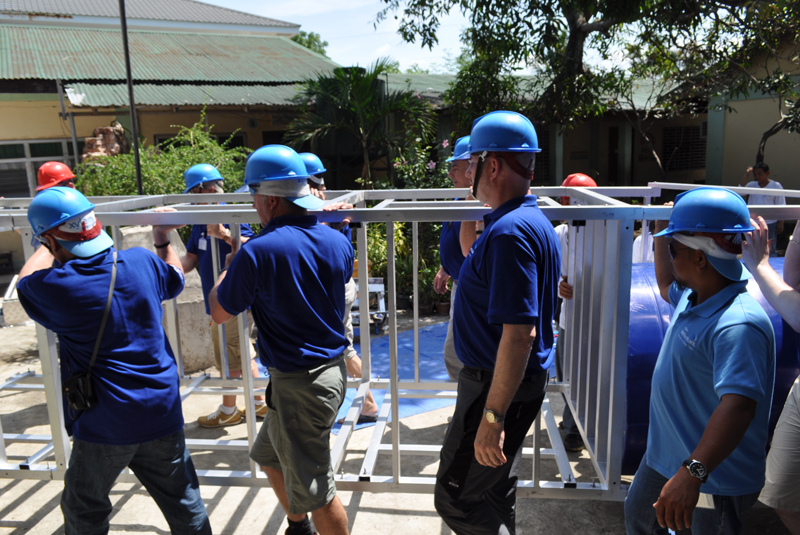 Here, Xylem discusses its scheme and the need for greater worldwide access to clean running water.
As most of us know, mobile phones have now become an integral part of our lives. What you may not know, however, is that you are more likely to have a smartphone in your pocket than you are to have access to a clean, functioning toilet.
In rich, developed countries like the UK and Ireland, access to clean running water is something that we take for granted every day.
This isn't the case everywhere. In fact, one person in nine worldwide lacks access to safe drinking water. The consequences of this can be fatal, with around 50% of hospital beds worldwide currently occupied by people suffering from water-based diseases.
Diseases such as cholera, for example, aren't a thing of the past. For millions around the world, cholera is a disease that is still prevalent, and capable of killing in a matter of days. The World Health Organisation estimates that up to 143,000 deaths are caused every year by this bacterial infection.
It's the 21st Century, and no-one should die from ingesting or washing with contaminated water. Yet so many people still have inadequate access to safe water and sanitation facilities. What's more, as large sections of the population are displaced by severe conflicts, such as those happening in Syria and Burma right now, illness and death from water-based diseases are likely to increase.
Xylem decided to take action and founded Watermark, a programme dedicated solely to providing safe water resources for communities in need around the world. Using Xylem's expertise in solving water related challenges, the company has already helped thousands of people and educated thousands more. Projects have ranged from providing water access to schools and communities in remote areas, to emergency response efforts during natural disasters.
Xylem concurrently launched Waterdrop, a scheme designed to involve customers in the work being carried out to support people in need around the world. As a member of the Waterdrop scheme, customers collect points, or "drops", by learning about, selecting or specifying Xylem's products or services for Commercial Building Services applications.
For every drop collected, Xylem donates $1 towards the construction of water towers for communities. Each drop also enters customers into a draw. The prize? To become part of the volunteer team that builds and installs these towers at various locations around the world.
Xylem's first trip saw 14 volunteers from the UK, France and Germany who travelled to the Philippines to build two water towers for 2,000 children and their families. Each tower delivering 10,000 litres of drinking water a day.
Since Waterdrop was launched, the business has collected enough "drops" to fund 28,190,000 litres of clean water, and provided 5,000 people with access to portable drinking water. Xylem won't stop there, though, and urges all of its customers to join the Waterdrop loyalty scheme and start making a difference to lives around the world.
Let's work together to raise awareness of the need for access to clean water, and ensure that diseases like cholera are wiped out for good.
For more information about Xylem's Waterdrop scheme contact Xylem on 01297 630 230 or to sign up, please visit www.xylemwaterdrop.com