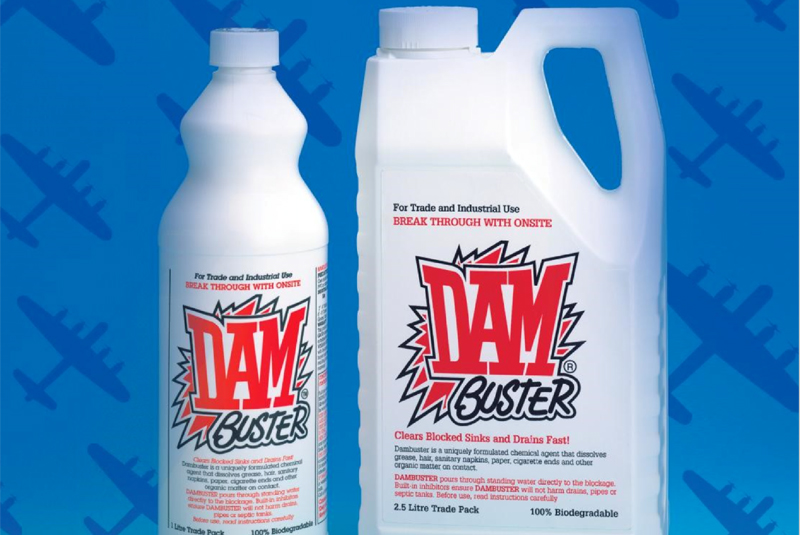 Wiseman Industries Ltd, manufacturer of DAMBUSTER, will be donating a percentage of the profits of all the product sales for the month of May 2018, to the RAF Benevolent Fund. This is in recognition of the historic Dambuster raid 75 years ago, 16th May 1943.
Harvey Wiseman, Managing Director says: "It is only right that with our successful drain unblocking product, Dambuster, that we honour its namesake. The bouncing bomb used was a historic breakthrough, developed by Barnes Wallis for the famous Dambusting raid. "Operation Chastise" was led by Wing Commander Guy Gibson of 617 squadron. Our product has been on the market for over 40 years and we gave it the DAMBUSTER name precisely because of the success it delivers and as a tribute to our brave service personnel."
For the last 40 years, Wiseman Industries Ltd., has owned the trademark Dambuster for use in its unique drainage formulation.  It is simple in its application, as there is no need to rod the drain. Simply pour a measured does into the nearest access point and within minutes the drain is clear and free flowing, asserts the company. Suitable for use on interior and exterior blockages, rapidly dissolving organic obstructions.
Harvey adds: "Over the years DAMBUSTER has been acknowledged by the industry as a one of the leaders in drain unblocking. It's simplicity of application and immediate impact means it requires a smaller amount to do the job and therefore more cost efficient. As its namesake suggests, it hits the target where needed.
"The product has evolved over the last 30 years to meet the ever-changing regulations. We are proud as a company to exceed the requirements by the Department of Transport, CAA and Health and Safety Executive."