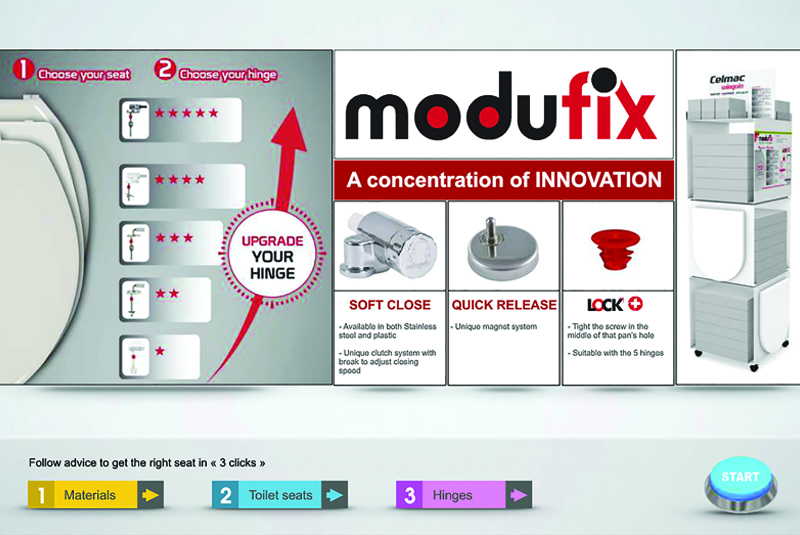 Wirquin has launched a new selector on its website, said to make it easier to choose a new toilet seat within its Modufix range.
Modufix is a toilet seat solution that provides a choice of upgradable hinge options for a toilet seat. The new online selector simply takes the user through steps, in three clicks, to choose material, seat and hinge options and then places the relevant product codes for order in a basket.
There are currently three seats in the Modufix range that come with an adjustable plastic hinge as standard, however there's a further choice of four fully compatible hinges to upgrade to. Any combination of hinge and seat is possible says the company, with the compatibility of this group of products, which increases choice to the end user or installer, whilst reducing the amount of product references the merchant or retailer has to stock. Installers can choose between bottom or top fix hinges, quick release seat removal and soft close options, in stainless steel or plastic finishes.
The adjustable soft close mechanism can be set to the user's desired speed, while the quick release hinge also allows for easy removal of the seat; this is very useful when cleaning as the entire seat can be removed with a firm pull on the magnetic fixture. Each seat option also includes LockPlus, a smartly engineered component that prevents the seat from moving or coming loose once installed.
"The new selector tool, available at www.wirquin.co.uk/images/Modufix/index.html, is proving very popular to simplify the ordering process. It takes the user through three multiple choice screens offering the benefits of each choice. There's a choice of seat material, toilet seat style and hinge options and at the end the user is given the product codes to order for their choices and it's all in three clicks," commented Alaina Turner, Marcomms Manager for Wirquin.