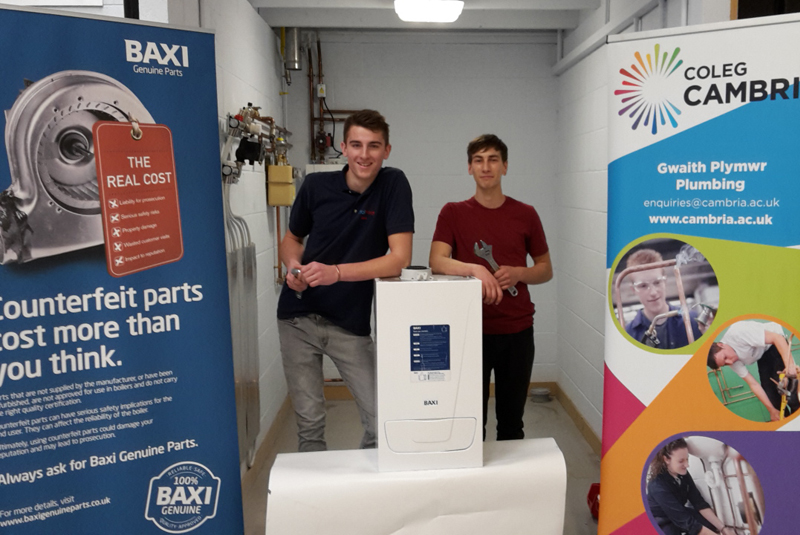 Baxi Heating has donated its latest boilers and other heating equipment to help train construction students at Coleg Cambria in north east Wales.
The manufacturer has provided four combi boilers (including the EcoBlue + Combi), six heat only boilers (such as the EcoBlue Advance Heat Only) and a Heatrae Sadia Megaflo unvented cylinder. The donation will give students studying for a level 1 or 2 diploma in plumbing practical experience of the latest products.
Baxi Heating Training Officer, Robert Evans, an ex-student at the college, arranged the donation. He commented: "We are delighted to have provided Coleg Cambria with up to date equipment and training to ensure the next generation of gas engineers are ready to meet the demands of an ever-changing industry.
"At Baxi we are always striving to meet those demands.  It has been a pleasure working with the staff and students in a college which is forward thinking and has many talented students."
Coleg Cambria's Deputy Director of Curriculum for Construction, Ian Hogg added: "We are really grateful for the kind donation of boilers and equipment Baxi has made to Coleg Cambria. Baxi has supported the college in the past with previous donations and I know that our students and staff have benefited greatly and that these new additions will be put to excellent use.
"Thanks must go to Robert Evans from Baxi Heating, in particular, who has built a really good relationship with our staff and knows the contribution of up-to-date boilers and systems makes to the excellent training our students get here at Coleg Cambria."
Baxi runs 16 training centres nationwide, including eight based at higher education facilities such as Exeter College, Coleg Gwent in Newport and Leeds College of Building.