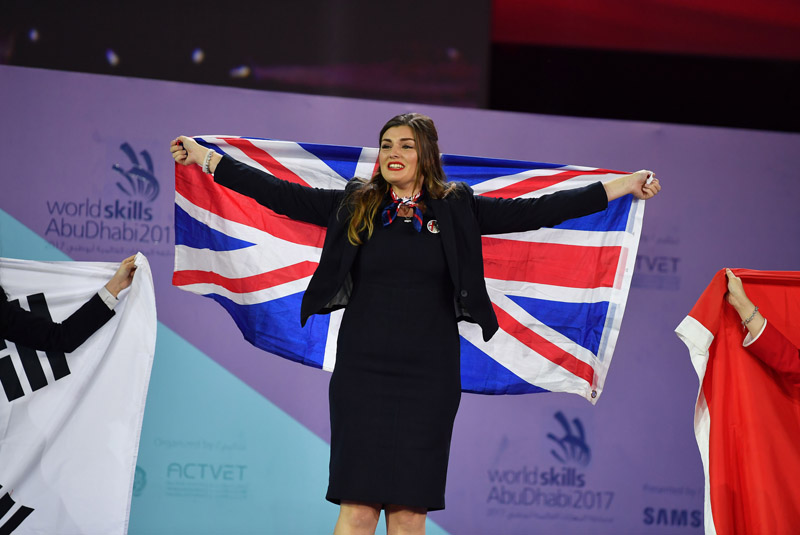 The UK  'struck gold' in the desert at the WorldSkills Finals (known as the 'skills Olympics') in Abu Dhabi.
Among the medallists were a beauty therapist, cabinetmaker, stonemason, visual merchandiser, auto repairer and of course, a plumber.
Team UK triumphed picking up no less than 20 medals, 1 gold, 3 silver, 3 bronze and 13 (NB: a team entry counts as one medal) medallions of excellence at a spectacular closing ceremony in front of 15,000 people and the World's media at the ad Du Arena.
The results in full:
Winning gold was Beauty Therapist, Kaiya Swain.
Winning silver were: Architectural Stonemason, Archie Stoke-Faiers; Car Painter, Daryl Head; Visual Merchandiser, Catherine Abbott.
Winning Bronze were: Plumber, Dan Martins; Cabinet Maker, Angus Bruce-Gardner and Auto Repairer, Andrew Gault.
Team UK finished 10th (out of 77) in the medals table ahead of Germany and was the smallest team to make the global top 10. This year's competition was seen by many as a litmus test for the nation's ability to cope when the free movement of skilled labour is withdrawn in 2019.
Dr. Neil Bentley, CEO of WorldSkills UK said: "Let the bells ring out, let the flags fly – these young people have done the nation proud. If we celebrate Team UK's success and use it to inspire others to follow in their footsteps – the future of the UK is in safe hands. "
Minister for Apprenticeships & Skills, Anne Milton MP, who visited the competition to support WorldSkills UK and the team, called upon parents to take note of the results saying: "I have been blown away by Team UK. They have done fantastically well – this is the UK competing on the World stage for skills and achieving great things. There will be huge celebrations when they come home. To get to this level is brilliant.
"There is a message here for parents – university is not the only option – the opportunities are boundless if they overcome any bias that they might have. We must ensure that the young apprentices here become an inspiration to others.
"WorldSkills UK is doing a fantastic job supporting these young people – with thousands of hours of input. We need to put all that they are doing – the ethos of this competition, the spirit of these apprentices – into a bottle and sprinkle it across the UK."
Having triumphed through regional heats, a national final, a Team UK selection process and months of intensive training, 34 young apprentices (or former apprentices) – completed 4 days of competition at the 44th WorldSkills Finals on Sunday (October 15th).
More than 1,200 young people, from 77 nations, who are specialist in 51 different disciplines from hairdressing to aircraft maintenance plumbing to 3D Games design, competed for gold, silver and bronze medals.