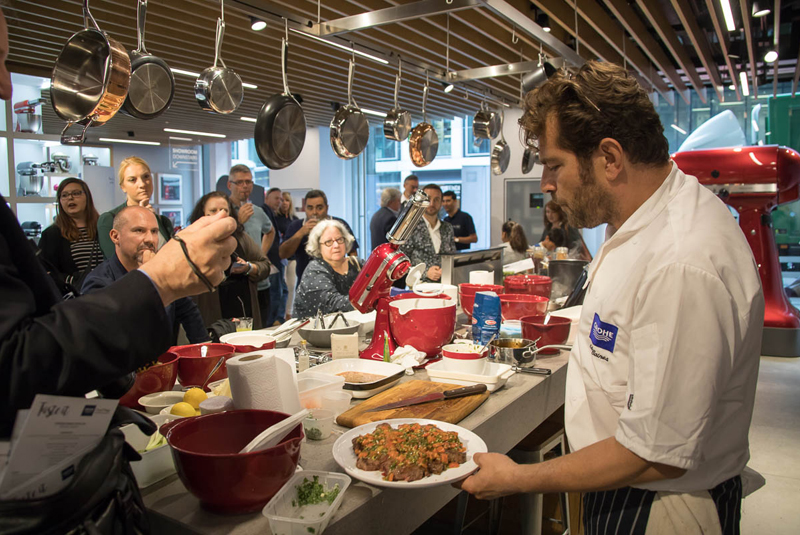 Grohe has announced its first ever Blue Home water tasting event, in collaboration with Good Things Magazine and TV Chef Ed Baines, was a resounding success, welcoming over 200 visitors through the doors.
The public event, which was held recently in the KitchenAid Experience Store in Marylebone's Wigmore Street, invited visitors to disregard their preconceptions about bottled versus tap water through a selection of food samples, "mocktails" and a blind water tasting activity.
All recipes used sparkling water from the Grohe Blue Home tap, including delicious mocktails such as a fruity orange and pineapple fizz and a sweet melon and vanilla refresher. Live cooking masterclasses led by Ed Baines demonstrated how sparkling water can transform much-loved British classics such as Yorkshire puddings while the Grohe Red instant hot water tap was used to make poached salmon.
Visitors were also asked to "blind" sample different types of well-known bottled water and water straight from the Blue Home kitchen tap and asked to rank their favourite. The Blue Home came out on top demonstrating how anyone can enjoy delicious refreshment on tap, eliminating the need to buy bottled.
Raj Mistry, UK Marketing Director, comments: "We are delighted with the result of our first Tasting Event and the popularity of the Blue with visitors. The Blue Home provides an eco-friendly solution for water of the future, delivering all the great taste of bottled but with a much lower carbon footprint and no need for plastic wastage."
The Grohe Blue Home is said to deliver delicious chilled and filtered still, medium and sparkling water straight from the tap in a sustainable and resource-saving manner. It takes seven whole litres of water, as well as plastic, energy and hefty CO2 emissions to produce just one litre of industrial mineral water. To produce one litre of Blue Home water, it takes just that – one litre of water. In addition, a study from the University of Göttingen in Germany confirms that the Blue Home water system reduces CO2 emissions by more than 60 per cent.