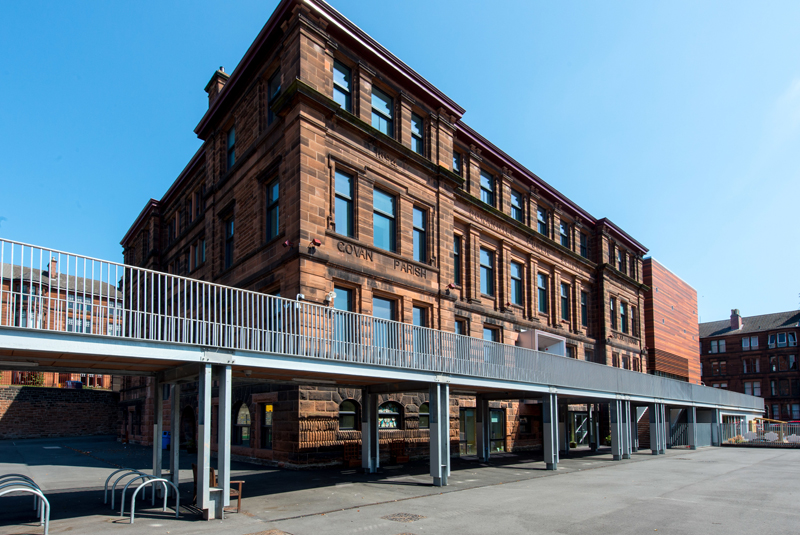 Remeha (formerly SenerTec) and Glasgow City Council have been nominated for the Association for Decentralised Energy's (ADE) Innovation Project of the Decade Award. The engineering team delivered Combined Heat and Power (CHP) at Notre Dame Primary School as part of renovation works to upgrade its heating system in 2014.
The project involved a pioneering system which combined two major low-carbon technologies – CHP and ground source heat pumps (GSHPs) – whilst overcoming restrictions imposed by the school's main C-listed building. Both are highly effective methods in reducing carbon emissions, but can be notoriously difficult to implement alongside each other.
The heating upgrade won the ADE's Innovation Project of the Year back in 2014, and will be judged against previous winners of the same award over the past ten years.
Since the installation of five R-GEN SenerTec Dachs mini-CHP units, together with two GSHPs, the school has saved over 600 tonnes of carbon emissions and at least £90,000 in running costs. As a result of the project's success, small scale CHP is now also used in six other primary schools and two care homes under the council's control.
Paul Wilson, National Sales Manager – CHP at Remeha, says: "We're delighted that this innovative project has been shortlisted for such a prestigious industry award. By using CHP as the lead heat generator and keeping it running for as many hours as possible, Notre Dame has been able to generate much of its electricity requirement on site in the most energy and carbon efficient way.
"This project has shown that by marrying two sometimes incompatible technologies – CHP and GSHPs, an innovative carbon saving strategy can be replicated nationwide."