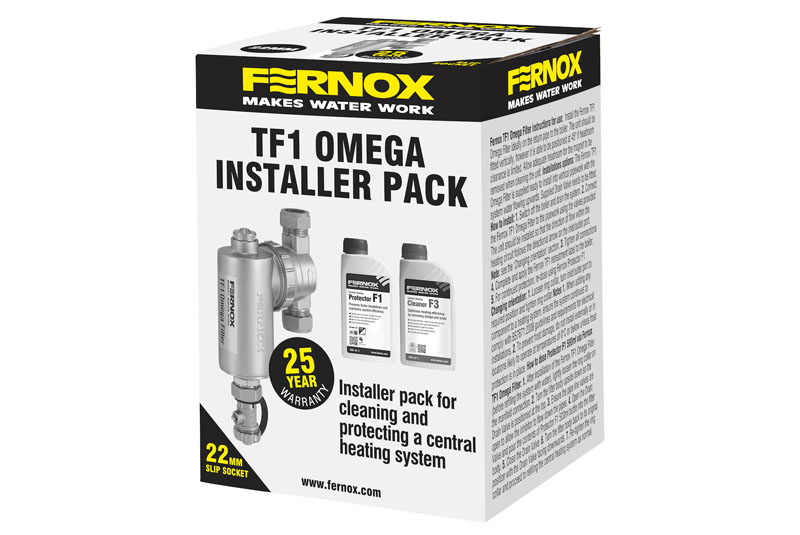 Fernox has launched its new TF1 Omega Filter Installer Pack, comprising the nickel-plated brass filter, the company's Cleaner F3 and the Protector F1. Said to offer complete protection against corrosion, limescale build-up and system breakdown; the pack will be available with either quality valves or a slip socket connection.
A grab-and-go solution for busy installers, the new TF1 Omega Filter Installer Pack is a combination of high quality products that can quickly restore, and help maintain, a dirty central heating system's efficiency.
Removing system debris such as sludge and scale, Cleaner F3 500ml is an effective non-foaming chemical cleaner. As such it is quicker to remove from the system than other cleaners, meaning the system can be cleaned and inhibited faster, reducing the time required on-site.
Once clean, the system can then be inhibited using the Protector F1 500ml. Combining three types of inhibitor particles, the solution protects the system from future corrosion by forming protective barriers between the system metals and water.
The ideal combination, when both products are used in sequence on a dirty system, gas savings of up to 15% can be achieved every time a room is heated, according to the manufacturer.
Francine Wickham, Fernox Global Marketing Director said: "Saving installers the trouble of having to purchase several products, the new installer pack offers an all-in-one solution to protecting a central heating system.
"The pack is available in two variations, as the filter can be installed with either 22mm valves or a 22mm slip socket connection. This means we can cater for all installer preferences. Offering superior levels of debris capture for safe removal, the TF1 Omega Filter provides on-going protection from the damage of circulating system debris."
For more information, visit: www.fernox.com