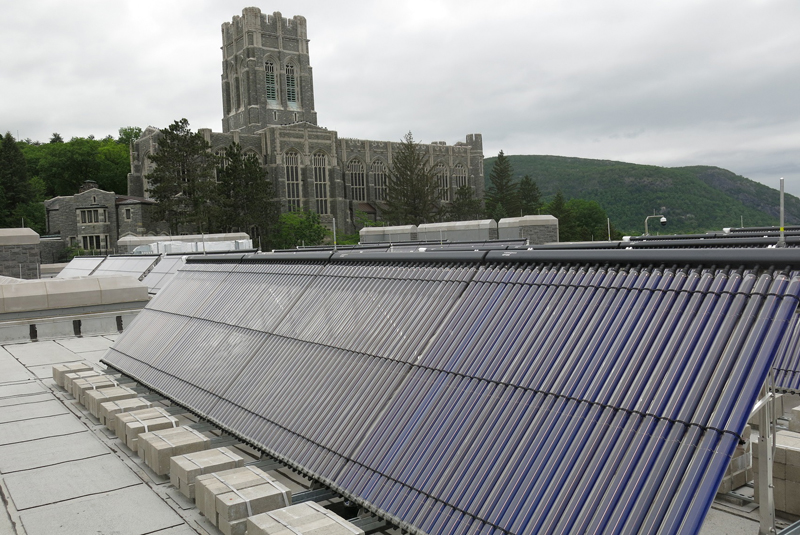 West Point is a world-renowned US military academy with a 200-year history and a prodigious alumni list. The Academy planned the opening of a new $200m barracks to house 650 cadets as part of an investment programme to upgrade buildings and accommodation. The six-storey, granite-clad Davis Barracks were commissioned to help relieve some crowding, as well as provide additional, flexible accommodation during the modernisation and refurbishment of other barracks. 
The Academy's project team were keen to install renewables energy solutions to reduce CO2 emissions as well as provide financial savings over the long-term. 
Kingspan Solar's expert team was invited to survey the site and offer recommendations for installing solar thermal technology which could provide heated water for the barracks. 
In the largest Kingspan solar thermal system ever specified in the USA, the team specified 132 Thermomax HP450-30 Evacuated Tube Collectors to be mounted on the rooftop. The system was supported by custom Pump Skid comprising controls, duty-standby solar circulation pumps, duty-standby secondary circulation pumps, double wall heat exchanger to transfer the heat from the solar loop to the secondary DHW loop, telemetry, flow meters, etc. 
The system would pre-heat three 2,000 gallon tanks which feed the three 4,000 gallon DHW tanks. 
The annual solar contribution (T*Sol) is calculated as 1,223.4 MMBtu, with predicted annual CO2 savings of 188,043.22 lbs – equivalent to the CO2 absorbed by circa 3,900 trees per annum. 
Thermomax solar collectors are claimed to be up to 30 per cent more effective than traditional flat plate panels.  They use vacuum technology to deliver a transfer of solar energy into heat. 
The vacuum inside each tube provides insulation and suppresses heat loss by protecting the system from cold temperatures. Output is measured by an MX controller unit with built-in LCD display, which provides a constant, accurate measure of heat production for facilities managers to keep on record.  
Thermomax collectors are also well suited to buildings such as universities and schools where usage and loading can vary greatly throughout the year. They are highly reliable with little risk of either stagnation or overheating while routine maintenance is minimal with the system needing servicing only once a year to maintain its optimum performance. 
Kingspan Solar offers custom-designed solar packages tailored to meet the needs of each specific application. These include total customer support from initial advice, through to bespoke design and specification, installation, final commissioning and technical support. 
The Davis Barracks building was open to cadets in August 2017. 
For more information, visit: www.kingspansolar.com