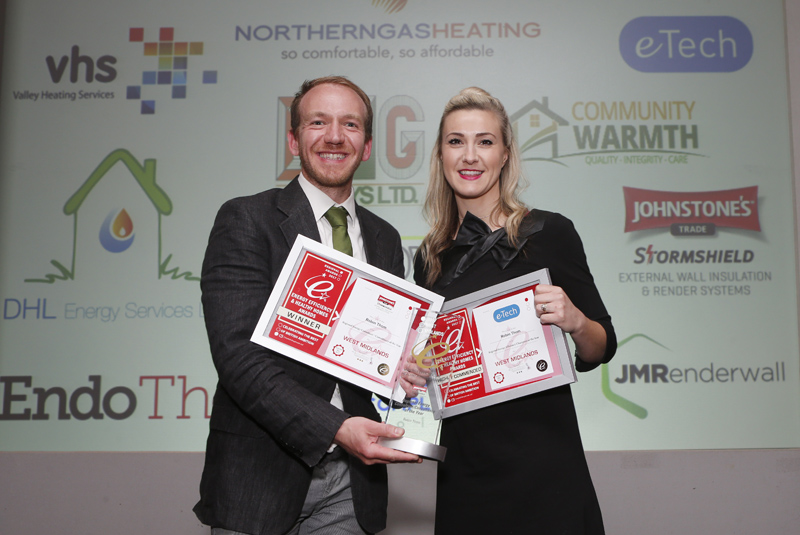 Energy efficiency specialist, Robin Thom, Director of sustainability at Green Heat Ltd. and SAP Ratings.com, has been named Energy Efficiency Consultant of the year in the 2017 West Midlands Regional Energy Efficiency & Healthy Homes Awards.
The title recognises the exceptional efforts and results Robin has made and achieved in delivering best practice in energy efficiency solutions within his local community, together with excellent customer service.
At a special awards ceremony held at the Coventry Hilton Hotel, Robin was also highly commended in the top category of Energy Efficiency Champion, which praises one exceptional individual who has shown a true commitment to promoting energy efficiency within their region.
"I'm delighted to have won this award and been highly commended in the top category," said Robin. "It's a great endorsement and recognition of the achievements we as a family business have made in helping housebuilders, architects, designers and homeowners save energy and cut carbon emissions.
"Awards such as these are really important in keeping energy efficiency high on the agenda and are encouraging for the people and organisations at the forefront of implementing better energy solutions.
"Over the past 12 years we have nearly tripled our total carbon emissions savings through successful lobbying of local communities and the Government. To date, Green Heat has helped our customers save over 835,000,000Kg of carbon dioxide (CO2). We're continuing to drive further savings and help to create more affordable warm homes for more people."
Nominees had to demonstrate clear energy savings achieved in their work. Taking into consideration the nature, scale and scope of the work carried out, a special emphasis was placed on successful integration of local or national government energy efficiency schemes in the nominee's projects.
Judges considered results from several projects undertaken by Robin to both improve existing dwellings' energy efficiency; and design new build schemes to minimise carbon emissions and maximise energy efficiency, together with the impact their work has had in the community.
"While Dad started the ball rolling, it's now up to me to take this drive forward. We've often hit steep inclines against mounting external pressures. Through the property crash in 2008, the rise and fall or the good and bad government-led energy efficiency initiatives and the slow periods surrounding the uncertainly of 'Brexit', we have continued on our path by steadily counting carbon and making lots of smaller savings, as well as the major ones, as we continue to affect change on the environment.
"Over the next few years we hope to really push the fight against fuel poverty and raise the profile of water efficiency, both here in the UK and as a global issue facing the next generation."
Robin will now go forward for entry into the National Awards, which will be held in September.
For further information, visit: www.greenheat.uk.com