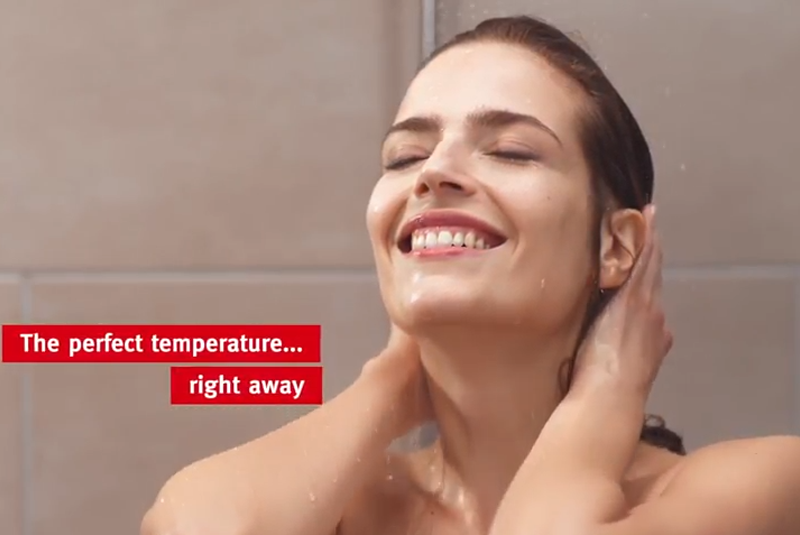 Glow-worm has launched its 'Love Your Shower' homeowner advertising campaign to kick-start a significant six-figure investment in brand marketing throughout 2018.
The campaign intends to raise awareness of the brand and drive homeowner demand for Glow-worm's loyal Club Energy installers. The campaign will involve a considerable investment in social media and online advertising to support these objectives.
To support the social media campaign Glow-worm has launched its first dedicated Facebook page for homeowners to drive greater engagement in the brand and its products. This content will be aimed at a consumer audience encouraging people to 'Love Your Shower' with a Glow-worm boiler and smartphone app control.
Glow-worm wants the campaign to showcase the quality of its products and promote the business' recent innovations such as the Energy boiler range becoming Quiet Mark accredited. The campaign will also allow Glow-worm to showcase its commitment to its loyal Club Energy installers.
Club Energy installers will have access to a package of marketing assets, which have been designed to help them promote their own businesses. These free packs include leaflets, posters and their own digital advertising content to help with their own marketing campaigns.
The hero of the campaign is Glow-worm's Quiet Mark accredited Energy range of boilers, and the smartphone connected control MiGo, which allows homeowners to control their heating and hot water wherever they are.
The MiGo smart control allows users to access multiple heating and hot water functions including hot water boost mode meaning perfectly heated, shower ready water at a push of button.
Alice Woolley, Marketing Director at Vaillant Group comments: 'The launch of the Love Your Shower campaign is the start of a renewed focus within our business on marketing the Glow-worm brand. We want to show our Club Energy installers that we have them at the very heart of our business. We want to provide them with the support they deserve when choosing to fit our products.
We want to remind both consumers and installers that Glow-worm has over 80 years' experience in the manufacture of heating products. To further support this we have made huge investments not only within the growth of the brand but post-installation support infrastructure by increasing the scale of our customer service teams by 50% in the last 12 months. This demonstrates how important our loyal installers are to us. We take their feedback and we implement it to the best of our abilities."
Alice adds: "We created this campaign with our Club Energy installers in mind. We're investing heavily into the Glow-worm to support our loyal installers. We encourage installers to sign up to the Club Energy loyalty scheme to benefit from a wide range of business support. We are confident that those that sign up can reap the rewards from the increase in homeowner demand we expect to drive through this campaign."
To sign up for free to the Glow-worm loyalty scheme and get access to the Plumbing Toolbox app, visit: www.clubenergy.co.uk