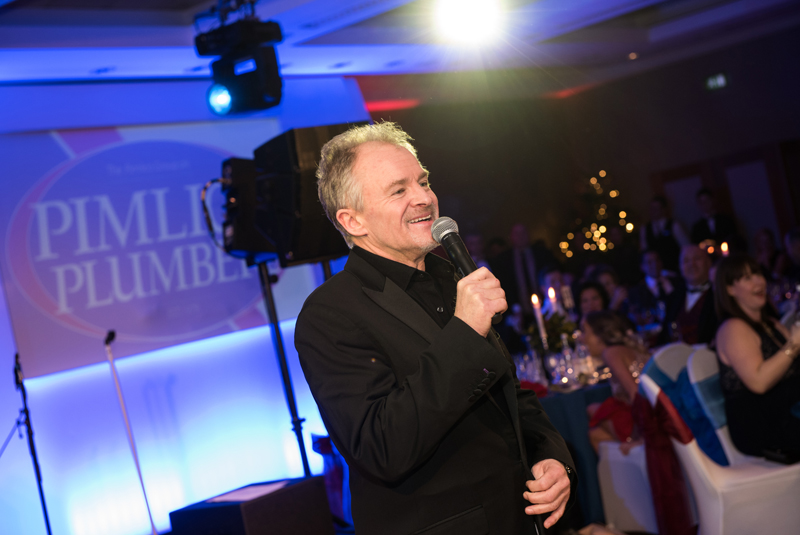 Pimlico Plumbers' staff have made a significant impact on the fundraising efforts of a little girl with a rare genetic condition with a £10,000 donation raised at the company's annual Christmas party.
The sum is in addition to the £1 per job Pimlico is donating to the appeal for 20-month-old Annabelle Rose Thomas during December. By 11th December, the company had raised £2,000 from its jobs.
Annabelle suffers from a rare genetic disorder called SMA1. To support her treatment she needs regular hydrotherapy pool sessions and a physiotherapy canopy. As there are no such facilities near her house in Barkingside, Essex, and travel is not possible, her family is raising £40,000 to install the equipment at home.
Pimlico's annual Christmas party, which was held at The Royal Garden Hotel, London, is one of the highlights of the company's year and was attended by more than 350 people.
As part of the festivities Master of Ceremonies on the night, actor and comedian Bobby Davro encouraged guests to put their hands in their pockets and purses and fill envelopes on the tables with donations. This netted £5,000 for the cause, which was matched by Pimlico Plumbers.
Charlie Mullins, CEO and founder of Pimlico Plumbers, said: "Annabelle is a wonderful little girl and we're delighted to be able to help improve her quality of life. The generosity of the Pimlico Plumbers family was amazing and along with our £1-per-job commitment during December I am confident we can help Annabelle reach her target."
"Our Christmas parties are always a fantastic night, but knowing we've raised another £10,000 for Annabelle makes this the best party yet. We hope Annabelle and her family have an amazing Christmas and can look forward to a positive 2018 where she receives the treatment she deserves."
Annabelle's mum, Michelle Healy, said: "We have been overwhelmed by the support from Pimlico Plumbers! The commitment to donate £1 per job was amazing, but to hear the company and its staff had raised another £10,000 for Annabelle is truly wonderful. She is such a special little girl and we are so proud that people have got behind our fundraising campaign, which will make a real difference to Annabelle's life."