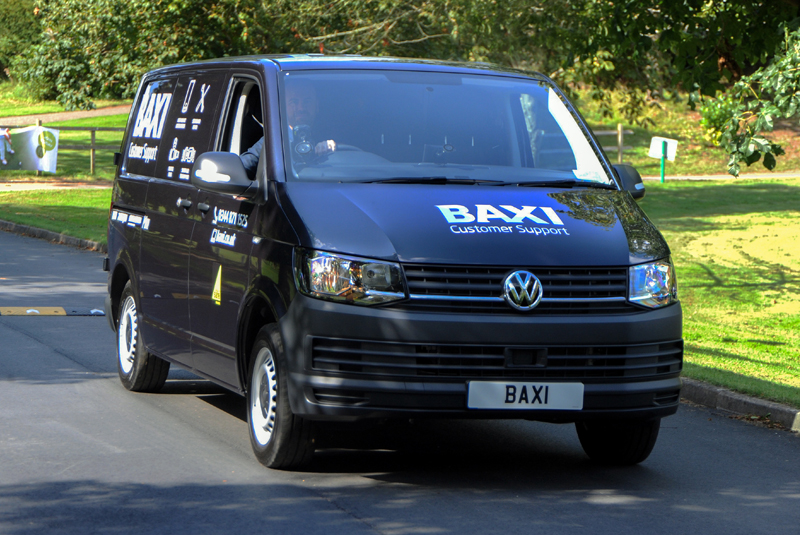 Baxi has provided its team of engineers with a new fleet of smaller, more advanced, and more energy efficient vans.
Perfect for regular call-outs, the new Volkswagen Transporter vans boast multiple health and safety features, such as five different braking assistants, and even a driver alert system which will warn the driver to take a break if it detects fatigue.
Among the various braking assistants is a system called 'front assist' – using a radar sensor, front assist detects when the vehicle in front is too close. It will then warn the driver and prepare the vehicle for braking. If nothing changes, the vehicle will partially apply the brakes, giving the engineer a better chance of avoiding or minimising a collision. Working in combination with this feature is 'city emergency braking', which will automatically apply the brakes if the driver hasn't done so when the system detects an oncoming collision at low speeds.
The new fleet also comes with a range of practical benefits for the engineer; the vans are smaller to comply with new city-wide height restrictions but can still hold the same amount of parts as the previous vehicles. This also means it will be quicker and easier for engineers to park when attending customer visits.
The vans are good news for independent installers, too, as they will be able to offer Baxi products to homeowners with the support of award-winning customer service as an additional selling point, says the company.
Louise Murton, National Service Operations Manager at Baxi, comments: "Not only are these new vans the perfect solution for our Baxi Customer Service engineers out on the road, but with a 33 per cent cut in the fleet's overall CO2 emissions they benefit the environment too.
"I want to say a huge thank you to our dedicated project team of Baxi Customer Support colleagues both office and field, who have worked closely together to undertake vehicle trials, MPG monitoring, racking modifications, and weighing of the vehicles in order to ensure they meet the correct payload."
Hannah Denton, Area Fleet Manager at Volkswagen Commercial Vehicles, adds: "Our Transporter vans are extremely practical, fully-decked out with modern technology, and spacious load-carriers while remaining compliant with Euro 6 emissions legislation – the perfect solution for Baxi's Customer Support engineers."
The official handover of the new fleet to the Baxi Customer Service engineers took place on 12 September.
For more information, visit: www.baxi.co.uk/customer-support or www.volkswagen-vans.co.uk