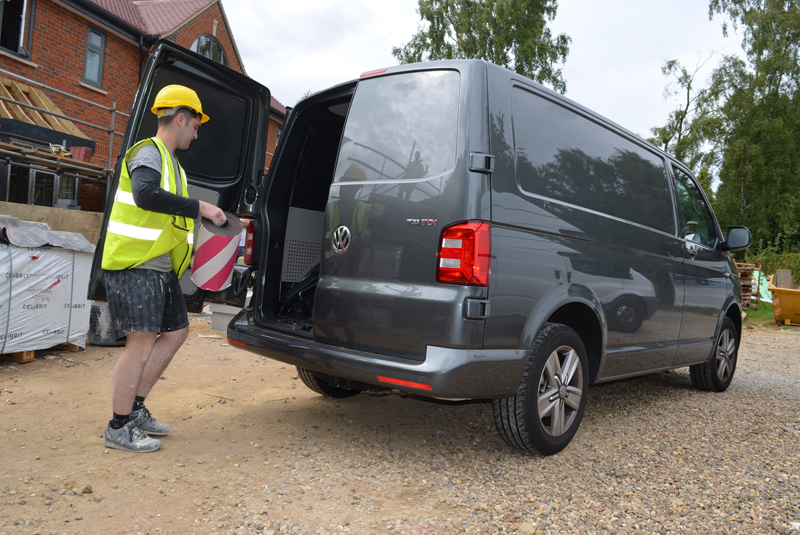 VW has the latest embodiment of one of the staples of the van market off to a 'T'. Lee Jones gets behind the wheel of our long term test vehicle.
With a 65-year heritage, and its long association with the inimitable Camper, the Transporter has already achieved iconic status in the commercial vehicle sector. Judging from its reception in the market, the 2015 T6 incarnation did nothing to diminish that position and, with two wheelbases and three roof sizes available, there's a solution suitable for any number of trades. Of course, any prospective van purchaser will base their judgement upon what tools, equipment and materials can be accommodated in the business end, and here VW provides a journey into a considerable choice of spaces.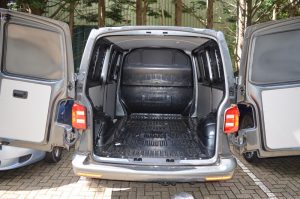 Depending on the model, load compartment dimensions range from 5.8 to 9.3m³, for example, with a payload capacity of up to 1,301kg. The short wheelbase version has a maximum load length of 2,570mm, which rises to 2,970mm in the long wheelbase. What has equally been noticeable with the Transporter in its various guises is the convenience of access to the cargo area, with its low load bed, and rear opening width of 1,473mm, via the option of a tailgate or wide opening rear doors. Add to that the option of washable rubber floor covering, and extra tie down points, and the Transporter should deliver a highly practical solution.
Exterior styling of VW's flagship van has taken an evolutionary approach and in truth has seen little change in its fundamentals over successive generations of design. This is already one of the slicker and more distinctively fashioned body shapes in the medium van segment so radical departure is hardly required. Where the real revolution in van technology has come in recent years, of course, is under the bonnet and the T6 takes its place in that modern tradition. Euro 6 emissions standards with the addition of AdBlue are now a fact of life for van drivers, and entail some minor adjustment from end users in how they manage their vehicle, but that doesn't detract from the level of choice in powertrains.
Our 204hp TDI long term test model is equipped with a 7-speed dual clutch, Direct Shift Gearbox (DSG) with both this unit and the 150 hp available with this automatic option. Autos have been introduced into LCVs with varying degrees of success, but we can safely say that the VW technology provides one of the most imperceptible gear changes that we have experienced. The 84 and 102hp models will each be supplied with a five-speed transmission as standard.
Not only that, but easing the pain at the pumps has been given due consideration with start/stop, regenerative braking and low rolling resistance tyres all ubiquitous across the Euro 6 range. Engines which conform to the new regulations will, in fact, promise up to a 15% improvement in fuel consumption, whilst there is also a dedicated BlueMotion model which, with the addition of some further fuel saving features, will achieve a frugal mpg of 47.9.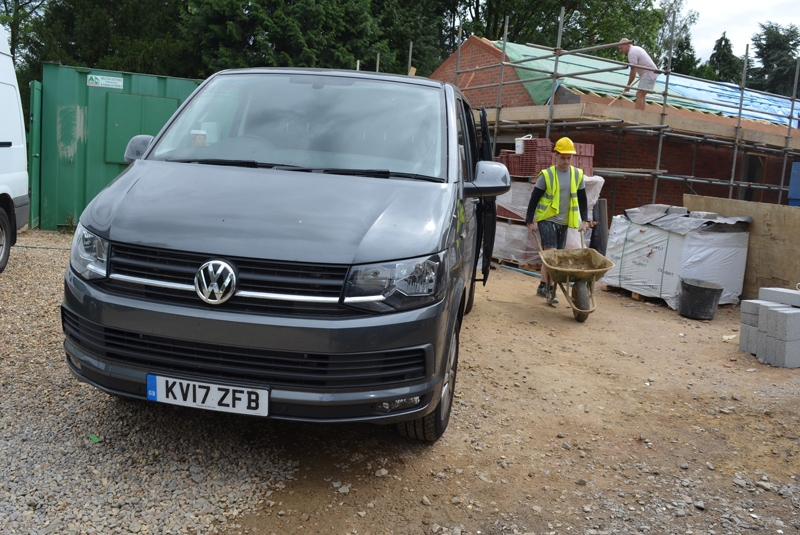 In any application that requires high torque, including a tradesperson's daily travels, diesel has hitherto held exclusive sway, but recent years have seen the tentative introduction of alternatives – and it's not just about going down the electric avenue. With concerns over air pollution reaching the status of a public health emergency the cost of owning a diesel van will inevitably rise in the years ahead. Ultra-low emissions zones are likely to become a fixture in our towns and cities, for instance, and ever more stringent restrictions in the years to come will undoubtedly follow. Petrol versions already hold the upper hand in not producing harmful NOx particles as they burn fuel but, over the shorter distances over which many urban installers ply their trade, they may also pull rank in terms of mpg. That's why the Transporter can now be ordered in a two petrol options – a 2.0 litre TSI with 150hp and the 2.0 litre TSI with 204hp, both options with a direct injection system and an exhaust turbocharger.
Snow and ice invariably have the unhappy consequence of stopping the wheels of business in their tracks, but here again help is at hand. The additional investment in a 4Motion all-wheel drive will help you get a grip when the wet stuff plays havoc. According to the manufacturer, the Transporter is the only vehicle in its class that's available with 4MOTION all-wheel drive and a 7-speed, dual clutch direct shift gearbox (DSG).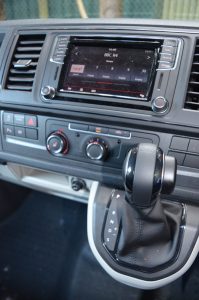 If you happen to be sheltering inside the van from those inclement conditions then, with three trim options on offer, internal creature comforts abound. The entry level Startline includes a 5in. touch screen DAB radio, the ability to carry two passengers in addition to the driver, and separate daytime running lights, whilst BlueMotion additions include cruise control. Moving up the spec the Trendline elevates exterior styling with body-coloured bumpers, and body-coloured exterior mirror housings and wheel trims all in evidence, whilst parking sensors may well be a popular draw. Rise still further to the Highline, however, and you can enjoy climate control, leather-wrapped multifunction steering wheel, 16in alloy wheels and heated windscreen, amongst other luxuries.
Aside from emissions reducing technologies, if you were to name one area that has made huge strides in recent years then it would be in safety, and the Transporter is amongst the vanguard of these developments. Take the manufacturer's Front Assist with City Emergency Braking, for instance. Using a radar sensor, it detects when the vehicle in front is too close, warning the driver and partially applying the brakes if necessary. Automatic Post-Collision Braking also has the power to intervene at a crucial juncture. When the airbag sensor detects a collision, the brakes are automatically applied to avoid or lessen the impact of a secondary collision. The hazard and brake lights are illuminated, and the driver can take control at any time.
For more information on the VW Transporter, visit: www.volkswagen-vans.co.uk