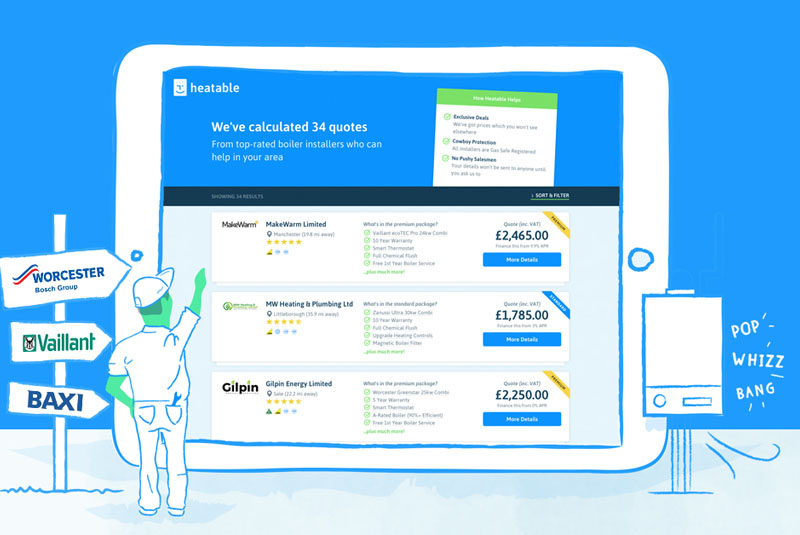 Heatable is a new price comparison website for the heating industry, where consumers are able to view a range of different quotes for heating services in their area. Installers are all vetted to ensure they are on the Gas Safe Register, with sign up offering engineers opportunities to grow their business, on a level playing field, says the company. PHPI speaks to Heatable's Sam Price to find out more.
Can you explain a bit about what Heatable is and how it works?
Heatable's a new, innovative price comparison website which is dedicated to the heating industry. Users answer some quick-fire questions about their home and its current heating system. Then, based on their answers, Heatable calculates a range of different quotes, prices and packages from vetted installers who're able to help in their area.
It's the first of its kind and we think it's going to change the way people buy their new boilers – for good.
How does it differ from other services on the market?
Heatable offers both consumers and installers something new. From a consumer's point of view, they get to see prices up-front and have total control over who contacts them and when. Through traditional lead generators, customers would enter their details into an affiliate site (often under the assumption they will see prices upon completion) and then their details are sold as leads to a number of different installers.
This means customers are sending their details into the unknown and being contacted by an installer they don't know and didn't specifically ask to speak to. With Heatable, those who wish to price browse can do just that. But the people who are ready to speak to an installer and arrange a survey can do so, knowing they will only be contacted by the installer(s) who they selected.
Heatable's own statistics show that only 5% of people searching for a new boiler online are at the stage where they would want to proceed with a home survey and subsequent installation. Worryingly, the other 95% could, and often still would, be sold to installers as leads through traditional lead generation platforms.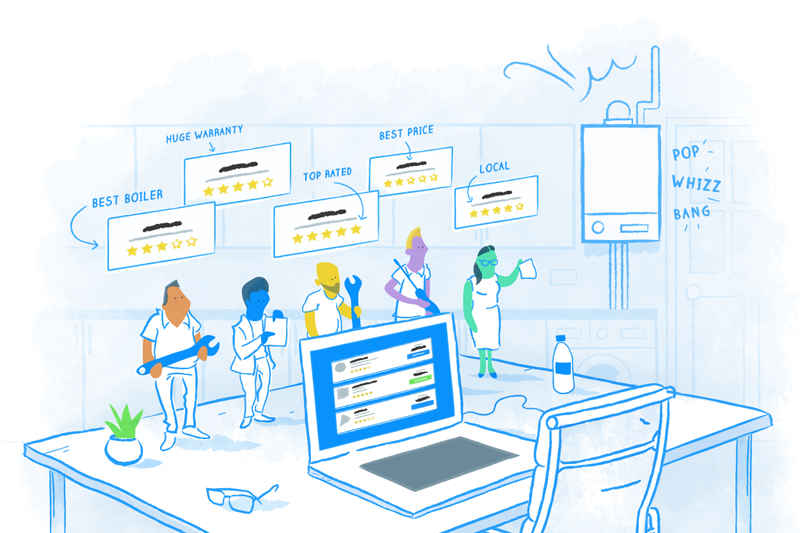 What benefits does it offer for sole traders and small businesses?
We believe Heatable offers SMEs a variety of benefits:
The chance to be listed and marketed on Heatable with no contracts or subscriptions (we only ever charge installers for the leads they receive and they can even create a Google friendly profile for free without receiving leads if they wish to do this).
A level playing field for their directory listing and price offerings – all our installers, regardless of size or status, have access to the same profile builder. So how impressive their profile looks and reads is entirely in the installer's hands. Additionally, when Heatable displays installers' results, they are initially randomised – meaning nobody can gain an unfair advantage through pricing, alphabetical order etc.
Free tools and widgets to help installers grow – once setup on Heatable, installers will be able to embed a line of code in to their own website which will allow them to provide instant online quotes to their own website visitors. To see an example, head over to one of our partners who've already installed it: http://www.pegservices.co.uk/boiler-quote/
The chance to grow their business in a way they may not have been able to before – now, installers with lesser or no marketing budgets can pick up business they probably wouldn't have reached previously. Heatable allows installers to cover specific post codes and always control how many leads they receive, which means smaller businesses will never be inundated with leads they can't handle or afford.
Connects installers to the right type of buyer – installers are able to build multiple 'packages' to appeal to different consumers such as a 'budget', 'standard' or 'premium' offering. This has proven to be a great success so far.
Free business potential – because Heatable shows installer details and prices without any user commitment or payment, there is the potential that users may cut us out and go direct to the installer. This is a risk we take but a potential benefit to the installers.
How is the pricing structured?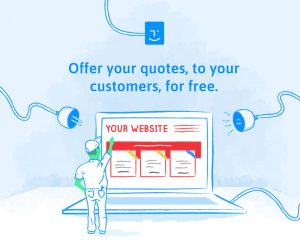 Heatable's users are able to request further details from up to three different installers from their results. When they generate a lead through this very clear request process, there are three different corresponding prices for installers:
Exclusive Lead, £60 – customer has requested only this installer contacts them after already seeing their profile and prices
Split Lead, £30 – customer has requested contact from two different installers after already seeing their profile and prices
Triple Lead, £20 – customer has requested contact from three different installers (max) after already seeing their profile and prices
What checks are in place to ensure that there's no fraudulent use (for example, by unregistered gas installers)?
All our installers are checked against the Gas Safe register as a minimum. We also have a short telephone interview with each of them and look into any available reviews/comments online beforehand. Also, before an installer's prices can go live, they will be checked internally by our team to ensure there is no foul play or obvious mistakes.
Furthermore, we will treat any customer complaints via Heatable with the utmost seriousness and investigate any claims. We reserve the right to remove any installer from Heatable with immediate effect that we suspect of fraudulent use or any other misuse.
What has the uptake been like so far?
Our feedback from the installers has been overwhelmingly positive regarding both the back-end dashboard system and the quality of the leads generated so far.
From a user point of view, the feedback has been equally pleasing and we're concentrating our efforts on generating the volume we would like, whilst keeping the lead quality very high. Obviously, as a new start up and a name people don't yet know, this is challenging but we're extremely pleased and proud of how it's developing thus far.
We're going to be investing heavily in national advertising campaigns to raise awareness and drive the brand forward. We think it's going to be a huge success.
For more information, visit: www.heatable.co.uk or specifically for installers, visit: www.heatable.co.uk/become-a-pro